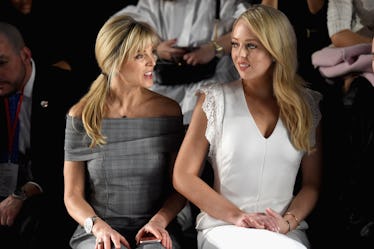 Tiffany Trump's Mom Explained How She Deals With Internet Trolls & TBH I'm Impressed
Jamie McCarthy/Getty Images Entertainment/Getty Images
While President Donald Trump is in office his family takes up some prime real estate in the spotlight. Given Trump's contentious road to the Oval Office — and in the Oval Office for that matter — a lot of that attention is negative, and his family must find ways to deal. Marla Maples explained how Tiffany Trump deals with Internet trolls, and I am actually kind of impressed.
In an April 12 interview with CNN, Maples chose not to comment on her past relationship with the president. (Maples, who divorced the now-president in 1999 after six years of marriage, was Trump's second wife and is the mother of the younger first daughter, Tiffany Trump.) However, Maples did offer some insight into how she and Tiffany handle all of the negative attention on the Internet.
Maples explained that although seeing an influx of negative comments online can be hurtful, she and Tiffany don't let the trolls get to them. Instead, the mother and daughter lean on each other and talk through it. Maples said,
You can't [pay attention to it] and my daughter [Tiffany], too. Every now and then we'll see it and it's painful. We just have to talk each other through it and keep focus on what you're giving in the world. That's all you can focus on.
Apparently Maples is able to guide her daughter through so well because she has been in similar situations. In her CNN interview, Maples also talked about how she had been bullied in the past, and how it's important for people to try and put a stop to that. She said,
I've been exposed to a lot of bullying myself and some awful experiences. I just believe we have to come together and stop judging each other and start loving each other. That to me is the most important thing.
I've seen a lot of the comments directed towards Tiffany on social media, and even I have a hard time reading them. So, good for Maples for teaching her daughter to rise above and remain confident in the face of negativity.
Maples is used to being in the spotlight as well. She first came on the scene when she was runner-up to Miss Georgia in the 1984 pageant, according to CNN. Maples then went on to Broadway and made appearances on '90s sitcoms like The Fresh Prince of Bel Air and The Nanny.
Presumably because of her Hollywood past, CNN asked Maples to weigh in on the #MeToo movement. I would guess, though, that Maples was also asked to weigh in given that her ex-husband Trump has been accused of sexual misconduct by more than a dozen women. (The official White House position on these allegations is that the women are lying, and Trump has also tweeted that he didn't know any of the accusers.)
So what does a performer, actress, and a former Mrs. Trump have to say about #MeToo? Her thoughts were very genuine and made sense given her career history. Maples explained that she could have used a campaign like #MeToo when she was coming up in her career. She thinks that it's important for women and men who have been sexually harassed to have a platform to share their stories, and also have a support system. She told CNN,
I wish when I was young as a model, an actress, that I had the similar space to talk about the things that happened to me when I was there [in Hollywood] from Atlanta, Georgia and dealing with things that were very, very painful that happened. I didn't know how to express myself. I think it's really important for women and men, because it's also men who are in these abusive situations, to be able to come together and have each other to share these stories and open their hearts to healing.
Maples' affair with Trump was, well, torrid. The two began seeing each other while Trump was still married to his first wife Ivana Trump. So naturally, it garnered a lot of media attention. After the couple divorced, Maples decided to move her daughter out of New York City, out of the spotlight, and off to California. But now, Tiffany is all grown up and with a President Daddy very much in the spotlight — with everything that entails. Thankfully, though, Maples is prepared from her own experiences and can teach her daughter not to let all the negative comments and attention get her down.