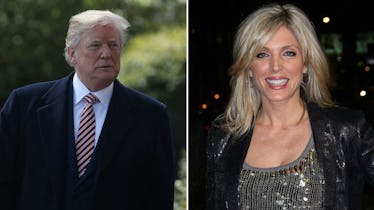 7 Things You Didn't Know About Donald Trump's Relationship With Marla Maples
Frederick M. Brown/Mark Wilson/Getty Images
President Donald Trump has weathered three marriages, the third of which is with first lady, Melania. At the tail-end of his first marriage, which was probably before you were born, Trump and his to-be second wife, Marla Maples, made headlines in the early '90s for a high-profile affair. Nostalgia is in right now, so here are eight things you didn't know about Trump's relationship with Maples.
But first, a brief timeline is necessary for context. Trump married his first wife, Ivana Zelníčková, a Czech model who had fled the Communist country during the Cold War, in 1977. Ivana later became vice president of interior design for the Trump Organization, and was reportedly responsible for the design of Trump Tower. Donald Jr., Ivanka, and Eric, are Trump's three children with Ivana.
Then there's the wholesome 1989 affair President Trump had with actress Marla Maples, which became public after Trump attempted to bring Maples on a family vacation to Aspen, but unsuccessfully hid it from Ivana. Maples reportedly infamously approached Ivana during their family vacation and said, "I love Donald. Do you?" Ivana told Barbara Walters about this reported incident on a 1991 episode of 20/20.
In October 1993, Maples gave birth to a daughter, Tiffany, and the couple wed two months later. The marriage lasted six years before ending in divorce, and Maples raised Tiffany on her own in California.
For those keeping score, that's three marriages, two divorces, five children, one child out of wedlock, for the dude who won the evangelical vote.
There are, however, several things you probably didn't know about the Trump-Maples saga, even with all its tabloid infamy.