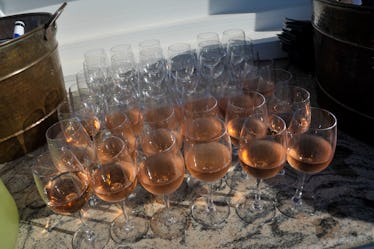 This Wine Keg Holds 130 Glasses Of Rosé & It's Perfect For A Beach Day
Kris Connor/Getty Images Entertainment/Getty Images
Summer means one thing: rosé season. There are few things in life more enjoyable than sipping a glass while enjoying beach views. Luckily for us, this wine keg serves 130 glasses of rosé, and it's perfect for that upcoming beach party. Cheers!
According to Delish, this one of a kind keg is courtesy of Long Island-based company Bridge Lane Wine and serves 130 glasses of wine, aka 26 bottles. Not quite on the rosé trend yet? No problem. The company also offers kegs serving chardonnay, white merlot, sauvignon blanc, and red blend. The options are endless, and I need to try each and every one. These kegs may run you $240, but if you do the math, that means it comes to $2.30 a glass. I don't know about y'all, but that's definitely better than any happy hour price I've come across.
Clearly, these kegs are perfect party essentials, but they're not necessarily a casual nightcap. For those who are looking to win(e)d down after a stressful day, Bridge Lane Wine also offers smaller options in 3-liter boxes, 750-milliliter bottles, and 375-milliliter cans. Plus, no matter what size you may choose, the pastel colors ensure that your summertime aesthetic will be strong no matter what.
Just look at these and tell me you're not feeling thirsty.
Safe to say, I've never been so excited for summer. First these wine pool floats, and now rosé kegs? The year 2018 may have been a dumpster fire politically, but this summer looks like it's going to be completely lit.
Even though wine kegs may be a complete game changer, there's still plenty of other drinks to sip this summer. Recently, Smirnoff released Raspberry Rose Spiked Sparkling Seltzer just in time for summer, and it sounds like a perfect, refreshing beach drink. Krista Kiisk, the Brand Director of Flavored Malt Beverages, talked about America's obsession with rosé in a press release, and how it inspired creating the 90-calorie beverage. Kiisk said,
America's love affair with rosé is still going strong so our Raspberry Rosé is a natural addition to our hard seltzer portfolio. Whether you're someone who enjoys a crisp cocktail with dinner or you're looking for the perfect summer drink ... the marriage of raspberry rosé flavor with the refreshing taste of spiked seltzer is guaranteed to be a crowd pleaser.
We're so lucky that summer is a few months long, because there's too many delicious drinks to choose from.
So why is America so obsessed with rosé? It could be because it's the perfect trifecta of taste, aesthetic, and trendiness. However, a huge part of it could be thanks to our love of millennial pink. I don't think I'm exaggerating when I say that the pale pink shade is popping up everywhere, and in every form. In fact, in February, sneaker brand Nike teamed up with Concepts International to create their New Balance 574 Rosé sneakers. I never knew I needed a pair of shoes so badly.
So rosé lovers, hear me out. I have your summer days all planned out. First, you'll grab a pair of your New Balance Rosé sneakers along with that "rosé all day" shirt I know you're hiding in your closet. Next, you'll head off to the pool, or beach, to soak up some rays. While enjoying the sun, invite some friends and order that rosé keg so you'll be able to host the perfect summer bash. Don't forget your rosé pool float, because you'll need it in order to snag that perfect Instagram photo. Let's be real, I basically just described the perfect summer day.
Cheers to those hot summer days to come. At least I'll be soaking up the heat through ros(é) colored glasses.