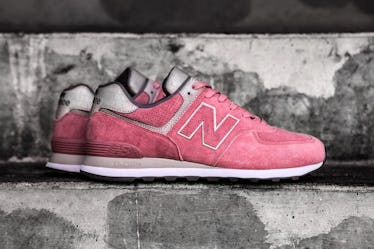 These Classic New Balance Sneakers Got A Rosé Makeover, Just In Time For Spring Break
New Balance
With each upcoming summer fashion tease, I'm counting down the days until I'm on a rooftop with my besties, captioning my photos with "Frosé season." This year, my basic tendencies are leveling up a notch. Women are in for a treat this spring because New Balance is helping us up our shoe game with their upcoming release. When do Concepts x New Balance rose sneakers drop? Get your credit cards ready, because gone are the days of matching your bags to your shoes.
Up until high school, it was mandatory that all students wore sneakers in my school. Back then New Balance sneakers weren't really the sneaker of choice in my Long Island suburb, but because I spent a lot of my time in New York City, I had to own a pair. They were the "cool girl" sneaker. The only annoyance I had was that they didn't really branch out with feminine colors and silhouettes.
The brand is finally answering my prayers with the launch of the Concepts X New Balance 574 Rosé sneakers. The killer sneakers are accented with pink lacing, a silver back tab, and silver tongue. Not only are these sneakers comfy AF, but you're going to look beyond fancy whilst day drinking.
After seeing the perfect pair, I lost all ability to breathe and am currently in Rosé heaven. With this new update, no one is going to be claiming you're #basic uploading your Instagram pictures this spring break. If they do, pointing at your shoes is the only answer that person deserves! Or filling up another glass of Rosé and flashing your best Real Housewives smile.
The official price has not been released yet, but the 574 normally ranges between $109-$120. I know Biggie Smalls coined the saying "Coogie down to my socks", but this year it's "Rosé down to my socks." Just don't be that person that gets kicked out of a day drinking event, because you can't stop yelling "Rosé All Day".
New Balance has teamed up with Concepts to celebrate the iconic New Balance 574, and oh my goodness, the revamped design is gorgeous. Inspired by the Concepts x New Balance 997 "Rosé" release back in 2014, the updated shoes have a "premium rose suede upper accentuated by croc-embossed accents".
I would like to believe that the New Balance head office came up with the brilliant idea to create these shoes in time for Rosé season, but New Balance is actually celebrating their 574 silhouette. Called the "Iconic Collaborations," the collection will consist of four of the most popular collabs.
According to Sole Collector, the four shoes being reinterpreted on the 574 are "the SNS x New Balance 577 "Erik" from 2007, Mita Sneakers x Whiz Limited x New Balance 1700 from 2012, Sneaker Freaker x New Balance 998 "Tassie Devil" from 2012, and the Concepts x New Balance 997 "Rosé" that launched in 2014".
Along with the identical color blocking, these shoes will also interpret the premium materials and detail of the originals. Even though Frosé season seems far away, the upcoming 574 Rosé release is going to be the new sneaker every woman wants. I personally can't wait to purchase a pair when they launch on Mar. 1, exclusively at the original New Balance retail location and on cncpts.com).
If you're unfamiliar with New Balance, you probably recognize the silhouette because the 574 is one of the most popular models.
The Concepts X New Balance collaboration is as historic as any sneaker collab could get. Established in the heart of Cambridge, Massachusetts (Harvard Square to be exact) in 1996, Concepts was one of the first stores to cater to the lifestyle consumer (footwear, menswear, sportswear, actions sports, premium denim and outerwear). They consider themselves the founding father in retail, because they've laid down the blueprint for a market that wasn't really tapped back then.
For now, I'll just daydream about all of the Rosé captions I can muster up this summer. Seriously, how sick are these shoes?! I'm going to be in Rosé heaven come after Memorial Day.