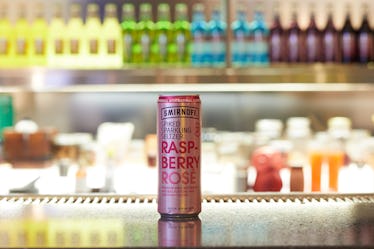 Rosé-Flavored Spiked Seltzer Exists & It'll Be Your Favorite Drink This Summer
Smirnoff
You know what they say: "If you can't handle me at my worst, then you don't deserve me at my best." In case you were wondering, I'm usually at my best when I'm on the beach. I'm currently listening to the waves, and my toes are buried in the sand. Regardless of how much sunscreen I applied, I'm somehow still getting a sunburn — and I'm drinking something refreshingly fruity. All is right in the world. But if you can't make it to the beach and you want to sip something refreshing in the sunshine, you should try Smirnoff's Raspberry Rosé Spiked Seltzer. It'll definitely make you feel your best.
Just in time for summer, Smirnoff released its newest (and most enticing) flavor of Spiked Sparkling Seltzer: Raspberry Rosé. According to a press release, it's a bubbly malt beverage that boasts crisp, bold flavors of raspberry as well as flowery, sweet notes of rosé. It sounds like heaven in a can, if you ask me. And if you know me at all, you can probably imagine that I'll be sipping this all season long. It's what everyone needs for any beach outing, rooftop party, and backyard barbecue — and it's what I need in my life, stat. I'm not even sure if I can even wait until its official release in mid-May. This sounds like a rosémergency.
Per the release, each serving of Smirnoff's Raspberry Rosé Spiked Sparkling Seltzer has a decent amount of alcohol (4.5 percent, to be exact). Since it sounds delicious, that's kind of hard to believe — but once in a blue moon, dreams really can come true. It's almost like Marry Poppins' handbag or a clown car. It has way more than you'd expect, and that's one of many reasons why it's such a crowd-pleaser.
And, if you're ballin' on a budget (like myself), one six-pack of a 12-ounce slim line can goes for a suggested retail price of $8.99. If you think about it, that really isn't so expensive (in the world of delicious drinks, that is).
Krista Kiisk, the Brand Director of Flavored Malt Beverages, said in a press release that America still loves rosé more than ever, and that the flavors go together to make the perfect summer drink.
In the release, Kiisk said:
America's love affair with rosé is still going strong so our Raspberry Rosé is a natural addition to our hard seltzer portfolio. Whether you're someone who enjoys a crisp cocktail with dinner or you're looking for the perfect summer drink [...] the marriage of raspberry rosé flavor with the refreshing taste of spiked seltzer is guaranteed to be a crowd pleaser.
I'm not sure if you already knew this, but it turns out that Smirnoff actually has a plethora of tasty spiked seltzers that I never even knew about. According to the press release, Smirnoff's Raspberry Rosé Spiked Sparkling Seltzer is the fourth to hop on the bandwagon of its bubbly alcoholic flavors. The other flavors include Berry Lemonade, Cranberry Lime, and Watermelon (so, um, yum?). Each of them sounds freaking heavenly, and if you're not serving Berry Lemonades at your beach bash this summer, then what are you doing with your life?
I know I said this before, but I really do thrive in the presence of anything remotely beachy. Ask anyone; it's the truth. And if you're planning on serving Smirnoff's Raspberry Rosé Spiked Sparkling Seltzer at your get-together this summer, then you can assume I'll be right by your side, wherever you are. Sipping something so fruity and flowery is my idea of fun. I know this summer is going to be filled with rosé, and these Raspberry Rosé cans will definitely be on my shopping list.