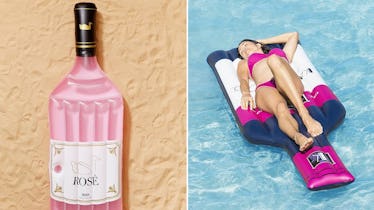 If You Love Wine, You Definitely Need These Pool Floats For Summer
Urban Outfitters/Amazon
If a wino could envision the perfect public service announcement, it would likely include free samples of rosé and an opportunity to showcase their love of wine at the pool. Well, I come bearing very good news to the wine lovers of the world. Wine pool floats are a thing, and they need to make it into your summertime fun this year. For real, though, any of these picks deserve an invite to your summer bash.
Pool floats have been around forever, but their updated shapes and designs are what make them so incredibly dope. Yes, many of us have outgrown the bright yellow floaties we used during swimming lessons as kids. Now, we've advanced to making floaties a total fashion statement, and the 'Gram is so ready for our summery pics.
You will literally be the talk of every pool party you end up at this summer with one of these. Don't be fooled, though. Some of these are only gigantic depictions of your favorite bottles. Attempting to take a sip won't have you enjoying a tasty cabernet. Save that energy for blowing these babies up, and sip on a refreshing glass later.
Are you ready to rock the rosé look from head-to-toe in those warmer temps? You'll be so ready to take on the season with these super awesome wine-related floats this year.