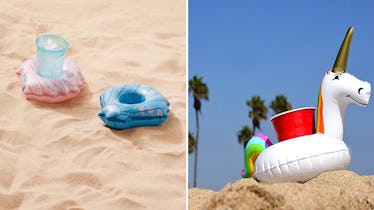 These Pool Floats For Drinks Are The Perfect Way To Keep Your Rosé Close At All Times
For those of us who are 21 and up, enjoying a drink poolside in the summertime is relaxing as heck. In between sips, you peak over the top of your sunglasses and thank goodness for the simplicity of it all. You'll want to snag some pool floaties for drinks so that you and your girls can switch between laying out, sipping, and taking a dip with ease. Shaken, stirred, or poured over ice? How about all of the above and floating on water?
Pool floaties of any form will never lose their appeal. You're floating on water, damn it, and your drink can be in that summertime state of mind, too. Let's face it — it's sort of a drag having to get in and out of the pool to stay hydrated or sip your margarita. When your drink is within arm's reach, those lazy days in the pool will have you chanting all types of relaxing mantras.
You and your ladies have been waiting several grueling months to be out in the sun, so you might as well do it up. Little affordable accessories like pool floaties for drinks will seriously upgrade your pool lounging. So, if you're ready to sip and serenade yourself in a little piece of semi-luxury this summer, get your hands on any of these pool floaties for drinks.