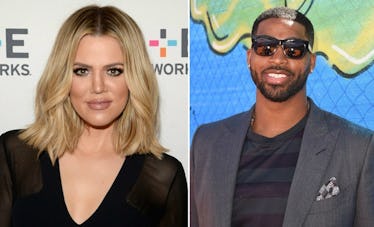 Tristan Thompson Adorably Serenaded Khloé Kardashian In This Sweet Video
CHRIS WEEKS/KEVIN WINTER/GETTY IMAGES ENTERTAINMENT/GETTY IMAGES
It's only been a few months since reports surfaced that Tristan Thompson allegedly cheated on Khloé Kardashian multiple times throughout the course of their relationship, but joke's on us, because the two are seemingly still together and appear to be doing better than ever. In fact, they're apparently in such romantic bliss that the NBA baller can't help but sing all about it. If you ever doubted these two, let this video of Tristan Thompson singing to Khloé Kardashian be all the proof you need to assume that this couple is in it to win it. Elite Daily reached out to Kardashian's representation for comment on their current relationship status, but did not hear back by the time of publication.
According to People, the moment went down on Friday, Sept. 21 after a girls' night in celebration of Kylie Jenner's newly-released makeup collection with her best friend Jordyn Woods. The video, recorded and posted online by Kourtney Kardashian, shows Thompson staring affectionately into the Good American designer's eyes and pulling her close to him during a car ride as he sings, "Living my best life with this beautiful woman. Living my best life!"
Adding a touch of humor into the adorable moment, Thompson licks his lady's nose, sending her into a hearty fit of laughter. Kourtney captioned the sweet clip, "Third wheel life." (Me and you both, girl, although I can def do without the nose-licking.)
Anyway, get a load of this cuteness:
The outing came in the wake of speculation that Thompson was allegedly cheating on Kardashian again, after photos surfaced earlier this week that reportedly showed a group of girls waiting for him outside of a Hollywood club. A source later told People that, although women were indeed around him at the venue, he remained loyal to the Keeping Up With The Kardashians star throughout the evening. Again: IN. IT. TO. WIN. IT.
Rumors of Thompson's alleged infidelity first made headlines back in April, when both TMZ and The Daily Mail published videos that appeared to show him in close company with various women just days before Kardashian gave birth to their baby girl, True, on April 12. Since the cheating scandal, the pair has been wholeheartedly committed to getting their relationship back on track.
"They've spent the summer with family but also reconnecting as a couple," a source explained to Entertainment Tonight on Sept. 20. "The two made sure to treat one another with dates and vacations together. True has brought Khloé and Tristan closer together and created an even stronger bond for them."
The insider also claimed that Kardashian is gearing up to relocate back to Cleveland to be with her man for the upcoming basketball season. The source continued:
Khloé will be going back to Cleveland with Tristan and True [like] she's always done. Khloé spends the summer in Los Angeles to be closer to her family while Tristan is off from his basketball season. Khloé will head to Cleveland in a couple weeks but still travel back to L.A. for work and to see her family.
While she's on the go between Los Angeles and Cleveland, at least she's got this adorable video of her man singing to her to keep her company. So, so cute.