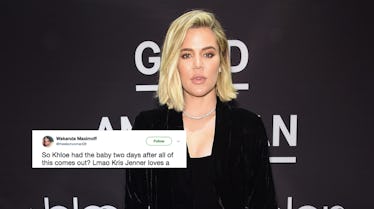 Khloé Kardashian Gave Birth To A Baby Girl & Twitter Can't Stop Talking About The Timing
JAMIE MCCARTHY/GETTY IMAGES ENTERTAINMENT/GETTY IMAGES
IT'S HAPPENED, YOU GUYS! Khloé Kardashian reportedly delivered her baby girl on the morning of Thursday, April 12, so a HUGE congratulations to her. According to TMZ, the little one has not yet been named, but apparently, Kourtney Kardashian, Kim Kardashian, Kris Jenner, Khloé's good friend Malika Haqq, and Tristan Thompson were there supporting her as she gave birth. The arrival of her daughter comes during a chaotic time though, after reports of Thompson cheating came to light, and many fans think that it might just be more than just a coincidence. As in, perhaps the leaked footage of Thompson cheating was more than just bad timing and more like a coordinated stunt. And these tweets about the timing of Khloé Kardashian giving birth are running pretty wild, y'all.
To recap: Tristan Thompson was in New York City with his teammates, the Cleveland Cavaliers, and was spotted on Saturday night, April 7, at a rooftop bar and lounge, with Khloé back in Cleveland set to give birth any day. Footage obtained by The Daily Mail shows Thompson with an unnamed woman getting "up close and personal." The Daily Mail also claims that the two share a kiss in the video, though Thompson's hoodie blocks the view for any definitive confirmation. The woman who reportedly took the video told The Daily Mail, "I was there and he was on the table right next to us with a group of friends and some girl who he was obviously making out with all night. They were holding each other and it was so obvious. They were there when I got there and they were part of a big group of friends." Elite Daily reached out to Kardashian and Thompson's teams regarding the report but did not hear back by the time of publication.
Then, on Wednesday, April 11, TMZ reported that Khloé was having early contractions and was starting to go into labor, and that family was flying to Cleveland to go be by her side. At first, many fans took to social media to point the finger at Tristan Thompson, saying that the reason Khloé was going into early labor was because of the stress from his cheating allegations. But now, many fans think that the timing of both of these events are simply too coincidental to be true:
Was this more than just horribly bad timing? Did Kris Jenner have something up her sleeve? Did Khloé K have any insight to what Tristan was doing?
We can speculate all we want, but here's the thing: Khloé Kardashian just had a healthy baby girl and is surrounded by friends and family. She's wanted a child for a long time, and was very open to admitting that. So no matter what happens, let's all focus on how exciting bringing a daughter into this world will be for Kardashian.
Back in December of 2017, Kardashian announced to her fans that she was pregnant with a sweet post on Instagram. She wrote,
My greatest dream realized! We are having a baby! I had been waiting and wondering but God had a plan all along. He knew what He was doing. I simply had to trust in Him and be patient. I still at times can't believe that our love created life!
And considering that Kardashian experienced struggles with getting pregnant previously, this experience for her is monumental. Back in 2013, she opened up in an interview with Redbook about how difficult it was for her and her now ex-husband, Lamar Odom, to try and conceive, but she was happy with where they were at in life. She said,
It was hard for me to understand what was happening because my mom had six kids and Kourtney got pregnant quickly. People assume I'm desperate for a baby. And yes, I would love to have a baby. But I'm 28, and I've been married three and a half years. I love my life, but it doesn't feel incomplete right now.
Even though Kardashian must be going through a tough time since Thompson's rumored affairs have come to light, I'm sure she's overjoyed when she looks and sees the face of her new baby girl.
We wish you nothing but the best for you and your daughter, Khlo.