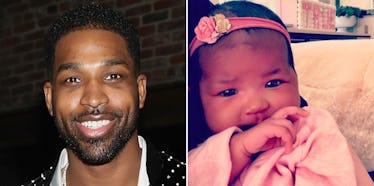 Tristan Thompson Posted The Sweetest Video With Baby True & My Heart Is Melting
Cassidy Sparrow/Getty Images for Remy Martin/Instagram
Little True Thompson is already over two months old, if you can believe it. Khloé Kardashian has been in the habit of posting photos and videos of her and Tristan Thompson's daughter semi-frequently, but we don't really see many posts from Tristan Thompson. That all changed when he posted the sweetest video of him and his daughter on Snapchat on June 26. The video of Tristan Thompson cuddling with baby True is seriously heart-melting, and it looks like True's ears are pierced, too. A-freaking-dorable.
"Baby Trueeeee. Baby Trueeeeeeee! Daddy loves you!" Thompson says in the selfie video before planting a big kiss on her cheek. True is giving the camera a look that can only be labeled as, "The f*ck is this?" And girl, same. Seeing little True right next to her dad makes it clear just how much she looks like him, but as Thompson said in an interview just a little bit after she was born, she has Khloé Kardashian's green eyes. She just seems like the most chill baby in the universe. Koko, can you confirm?
In a May 9 interview with UNINTERRUPTED's Road Trippin' podcast, Thompson opened up about his daughter for the first time since she was born on April 12. "She's doing good," he started off. "Baby True is eating, sleeping and, uh, sh*ttin'. That's all they do." He also revealed she was born 21 inches long, had a "full head of hair," and Kardashian's eyes.
Basically, this baby is cute as a damn button.
True's parents seem to be on much better terms nowadays. Thompson is reportedly living in Kardashian's house in Los Angeles so the three of them can be together full-time. The couple was seen out to dinner at a steakhouse with friends recently, and The Daily Mail reported that the two looked "tense" at the get-together. Kardashian disputed this report in a tweet that really set the record straight.
She quoted the article in question and said,
You make up anything!! I actually had a great night. It was a large birthday dinner for friends and as a new mom IM TIRED AF!! Being out past 10pm is not where I'll have the most energy these days.
She said in a follow-up tweet, "My little mama goes to bed at 8. So I have a few hours to enjoy 'being an adult' but truthfully I would rather just stay home with her. But I tried last night lol."
There ya have it. Khloé K is back in L.A., she and her boyfriend are working on their relationship, and life with their daughter seems to be pretty blissful.
Kim Kardashian opened up about how nice it is to have Khloé back in California. In an interview with Access Hollywood at her KKW Beauty pop-up on June 19, Kim gushed about how happy she is that True finally got to meet all of her cousins (specifically Chicago West and Stormi Webster). "It's very good to have Khloé back," she said. "I feel kind of bad. They came in town on Sunday and the whole family — we spaced it out so she wouldn't be too overwhelmed."
She said it was basically baby frenzy when Khloé got back. "First it was Kourtney and all of her kids," she said, "then me and all of my kids, then my mom, [then] Kylie." Kim continued, "It was just like, everyone was just coming over to see the baby and wanting to introduce my kids to their new little cousin. So it was really good to see her and have her back."
Chicago's mama also said she and Kylie Jenner are super excited to have Chi, Stormi, and True finally together. The little trio of cousins were all born within a couple of months of each other, so they're no doubt going to grow up best friends. Kim said,
I'm so excited. They came back on Sunday and I just piled the kids in the car and took them to meet their cousin, True, and it was a lovefest. I feel like Stormi and Chicago have so many photo shoots together, and we just text the pictures to Khloe of them sitting on the couch and we're like, 'Where you at, True? We're waiting for you!' Now that she can be in the mix, it's going to be so much fun.
Now, all we need to see are pictures of True, Stormi, and Chicago together, and at long, long last, the Kardashian-Jenner Baby Frenzy of 2017/2018 can finally come to a close.
Actually, who am I kidding? We'll be obsessed with these tots forever.