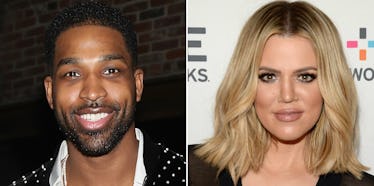 Tristan Thompson Revealed What Baby True Looks Like & She Shares This Feature With Khloé
Cassidy Sparrow/Chris Weeks/Getty Images
Khloé Kardashian and Tristan Thompson have kept their daughter's life out of the public eye since she was born on April 12. The only things we've heard about the baby are that Kardashian is loving spending time with her, and Kim Kardashian and Kris Jenner have said she's adorable. But what does True Thompson look like? In a rare interview, Tristan Thompson revealed some of the details of what traits his daughter inherited from him and Khloé Kardashian, but we still haven't seen a photo of the baby.
In an interview with UNINTERRUPTED's Road Trippin' podcast that aired on Wednesday, May 9, Tristan Thompson opened up about life with baby True for the first time since she was born and talked about the differences he's noticed so far between raising a son and raising a daughter. (He has a 1-year-old son named Prince Thompson from a previous relationship.) "She's doing good." Thompson said in the interview. "Baby True is eating, sleeping and, uh, sh*ttin'. That's all they do." True. (Get it? OK, bye.) That's when Thompson revealed a few details about what his daughter looks like, saying she was born 21 inches long with a "full head of hair," and get this: She has Khloé Kardashian's green eyes!
In a post on her app on March 26, Kardashian talked about the personality traits she hoped her daughter would inherit from each of her parents. She said,
I can't wait to meet my baby girl! I often think about what she'll look like and what her little personality will be like. She'll be the perfect mix of me and Tristan — which is such a crazy thought, LOL. I want maybe [Tristan's] IQ and my street smarts. We are both charming but [Tristan] is pretty cute!
She mostly talked about personality traits in the post and not physical traits, but it warms my damn heart to know that True shares the same eyes as her mama. Maybe that's just me... I just freaking love babies, OK?!
In another part of Thompson's interview, he talked about the ways having a daughter has already changed him in just the one month since True was born. "I think with a girl," he said, "you're just so much more emotionally like... With a boy, it's just like, 'Hey, man. You'll be alright, man. Stop crying.'" He continued, "But [with True], it's like, 'True, it's gonna be OK. You know, we're right here. Daddy's here to feed you. It's me! Look, yeah!' It's way different, but it's fun, though. It changes you."
Kardashian and Thompson's relationship has been one giant question mark for the last month, as videos surfaced on April 10 that seemingly showed Thompson cheating on Kardashian in New York City. Two days after The Daily Mail published the video, Kardashian gave birth to True. The couple hasn't spoken about the reports as of yet. Elite Daily reached out to Kardashian and Thompson's teams for comment when the reports first surfaced, but did not hear back by the time of publication.
Kardashian has reportedly decided to forgive and try and work things out with Thompson. TMZ released photos on May 9 that showed the couple going to the movies together in Cleveland, as if the whole internet isn't dying to know what's going on with these two!
The source said, "Khloé has given Tristan another chance at their relationship, and is trying to put the pieces back together for the sake of True." They added, "Although she is crushed by the scandal, Khloé desperately wants things to work and wants to have a complete family." Elite Daily reached out to Kardashian and Thompson's teams about the report but did not hear back by the time of publication. According to the source, Kardashian was stressed out from keeping things up in the air with Thompson and felt she needed to make a decision so she could move forward.
They said,
Things are more complicated now that there is a child involved, but it was causing more stress on Khloé by being in limbo with Tristan. Khloé decided that the back and forth and indecisiveness on what they were going to do was taking a toll on her. She wants to brush things under the rug and move forward.
They continued,
Khloé has definitely set guidelines and boundaries for their new chapter. She wants to make sure she is not embarrassed and heartbroken again, but everyone is warning her. Khloé has a huge heart and once she falls, it's hard for her to give up on someone she cares deeply about. She has been in a rough spot this past month.
Ugh. I understand where this is coming from. While some fans may find it difficult to hear that Kardashian's trying to make it work with a man who cheated on her just days before she gave birth to their child, that child does change everything. And it's Kardashian's prerogative to try and work things out with True's father in order to keep their family together. But Thompson better freaking follow those guidelines!!