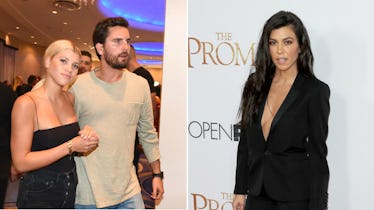 Scott Disick & Kourtney Kardashian Fight Over Sofia Richie In This New 'KUWTK' Video
Romain Maurice/Frederick M. Brown/Getty Images Entertainment/Getty Images
Co-parenting does not look (and has never looked) like an easy feat. I give props to the families who amicably make it work — especially when one parent starts seriously dating someone else and has to introduce their new significant other to their children. While I personally feel like that kind of decision should be made with both parents, it seems like Scott Disick doesn't exactly agree, and the whole situation pans out on Sunday's episode of Keeping Up With The Kardashians. As you should be well aware of, Disick has been dating Sofia Richie for quite some time, and we finally have reached the episode where he reportedly introduces her to his children — without Kourtney's consent. And honestly, this video of Scott Disick and Kourtney Kardashian fighting is a lot to handle.
In a preview clip from the most recent episode of KUWTK, we see the ex-couple get into a heated argument, reportedly after their children meet Sofia, unbeknownst to Kourtney that this was going to happen.
"It's called giving someone a heads up and having a respectful conversation, giving someone the respect," Kourtney calmly tells Scott.
Scott's retaliation is telling Kourtney that "sometimes you want to do certain things, or you map out certain things, but they don't always go as planned."
At this point, Kourtney is just like:
"I make sacrifices all the time and you're not following through with the things that you say you're gonna do," Kourtney tells her ex, adding, "Then you just go and do whatever you want and I'm not OK with it."
Instead of digesting that little bit of information, Scott asks Kourtney if she thinks that she's "difficult" and "overly controlling," to which Kourtney responds that she doesn't feel that she's either of those things, but that she "did have to be" while the pair were dating. "I expect a lot for my kids, I want the best for them." This makes total sense, IMO.
"I think you expect a lot from a lot of people," Scott tells Kourtney. "Not always can your expectations always be met, even though people are trying their hardest to please you."
Kourtney then says, "I understand that I'm a perfectionist," and is then cut off by Scott telling her, "Well, you're definitely something."
Um, OK.
I personally think Kourtney has a point with it all, and that she's actually being pretty reasonable with Scott by just telling him her initial thoughts and reactions. You can watch all of the ~drama~ go down in the clip below:
Hopefully, they can work it out peacefully, especially because it looks like Scott Disick and Sofia Richie's relationship is the real deal. According to a report from Us Weekly back in July, the couple has made things official by preparing to move in together. The source claimed that "Scott and Sofia are moving in together" and that "she'll move into his house," so it looks like these two are officially official.
For what it's worth, though, Kourtney and Scott have done a pretty good job at the whole co-parenting thing so far. I have faith that they'll iron out the kinks soon enough.