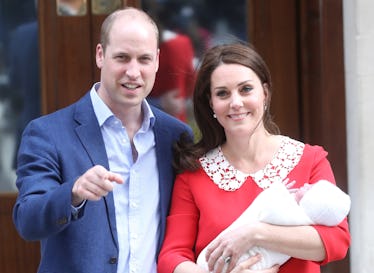 Prince William Fell Asleep At An Event After Welcoming His Third Baby & I'm LOLing
Chris Jackson/Getty Images Entertainment/Getty Images
Life with a new baby is exhausting. You're up all hours of the night, and sleep becomes a serious luxury, even if you're the future king of England. At an official royal appearance on Wednesday, April 25, Prince William sat with Meghan Markle and Prince Harry as he appeared to doze off, and the video of Prince William falling asleep at a royal event is so funny to watch. The poor dad. If he's this tired, imagine how exhausted Kate Middleton is!
At the Anzac memorial services on April 25 at Westminster Abbey, Harry, Meghan, and William sat together during the day's various events. Meghan Markle got visibly upset during part of the day's the services, but while she was filled with emotion, William was filled with drowsiness. (I'm sure he was also filled with emotion, but homeboy was clearly too tired to show it.) The video of him falling asleep is seriously hilarious to watch, but you'll laugh and then go, "Awwww, poor guy," because, well, the poor guy looks so damn tired. Bless up to him for trying to power through the week's events with a newborn at home, but even more blessings to Kate Middleton, who had to be camera ready (blowout, makeup, heels and all) just seven hours after giving birth in order to debut her son to the world. That woman is a true martyr.
Someone get Prince William some coffee stat.
The name of Will and Kate's third royal baby hasn't been revealed yet, which is kind of a bummer considering George and Charlotte's names were both revealed two days after they were born. We're passed the two-day mark with this little one now, but hopefully we'll learn the name soon.
Kensington Palace's tweet announcing the birth of the royal baby came on the morning of April 23, aka St. George's Day (a centuries-old national holiday in England). The announcement said,
Her Royal Highness The Duchess of Cambridge was safely delivered of a son at 1101hrs. The baby weighs 8lbs 7oz. The Duke of Cambridge was present for the birth. Her Royal Highness and her child are both doing well.
While it wasn't an announcement about the baby's name, Kensington Palace did announce some exciting news on the morning of April 26. Prince Harry has asked Prince William to be his best man!
In a series of tweets with heartwarming throwback photos posted on Thursday, April 26, Kensington Palace announced that Prince William will be his little brother's best man when he gets married on May 19.
The full announcement read,
Prince Harry has asked his brother The Duke of Cambridge to be his Best Man at his wedding to Ms. Meghan Markle.
Prince Harry served as best man to The Duke of Cambridge at his wedding to Miss Catherine Middleton in 2011.
The Duke of Cambridge is honoured to have been asked, and is very much looking forward to supporting his brother at St George's Chapel, Windsor on May 19th.
The throwback photos went as far back as William and Harry's childhood days, and they'll make your heart swoon. The photos also gave a shoutout to Harry and William's passion for Star Wars, which I relate to on the most deeply personal level possible.
Kensington Palace tweeted this photo of the brothers on the red carpet of the Star Wars: The Last Jedi London premiere.
The palace also tweeted this photo of the brothers playing with light sabers, and it's hilarious how obvious it is that they're making light saber noises in this pic.
Now that we know Prince William is for sure going to be part of Harry and Meghan's wedding party, let's make sure someone has a Tervis of coffee ready for the new dad at all times on May 19. And let's make sure Kate Middleton has literally and everything she needs so she doesn't feel drowsy either, because Superwoman deserves the best.