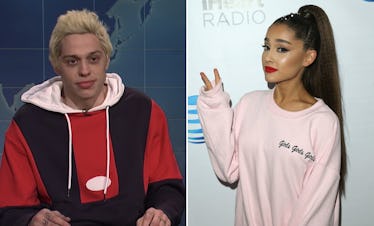 Pete Davidson Joked About Breaking Up With Ariana Grande Weeks Before Their Reported Split
Youtube / Jesse Grant/Getty Images Entertainment/Getty Images
Well, guys, that thing we were all worried about happening has reportedly happened. Pete Davidson and Ariana Grande have reportedly broken up. Their romance was fast and furious and while their journey was a total blast to watch, the momentum and passion behind their wild relationship just couldn't sustain itself. Elite Daily reached out to Grande and Davidson's teams previously for confirmation of their breakup, but did not hear back by the time of publication. If you guys recall, Pete Davidson joked about what would happen if they broke up on Saturday Night Live, which ultimately appears to have been foreshadowing the events to come. The video of Pete Davidson's joke about breaking up with Ariana Grande is honestly pretty sad to watch knowing what we know now. Elite Daily reached out to both Davidson and Grande's teams for confirmation about their breakup, but did not hear back by the time of publication.
In a nutshell, Grande and Davidson fell in love, became engaged, and reportedly broke up over the course of four months or so. In May, she announced her breakup from her ex-longterm boyfriend, Mac Miller, and Davidson had just ended his relationship with ex-girlfriend Cazzie David. By June, Grande and Davidson were engaged. Only two weeks before TMZ reported Davidson and Grande's split on Sunday, Oct. 14, Davidson appeared on Saturday Night Live's Weekend Update to gush about what it was like being Grande's fiancé. During that time, he playfully joked about signing a prenup and the likelihood of him and Grande breaking up. At the time, his interview was charming. Today, it's a real bummer.
Davidson started off the conversation by admitting he understood why no one could believe he and Grande were together. "She's the number one pop star in the world and I'm that guy from Saturday Night Live that everyone thinks is in desperate need of more blood," he said. He also playfully admitted he hated all of the attention he was getting, claiming he's received death threats for being with Grande.
When Weekend Update host Colin Jost asked Davidson about his "prenup situation," Davidson sarcastically joked, "Well, obviously I wanted one." He added, "God forbid we split up and she takes half my sneakers."
Davidson went on to explain Grande was the true breadwinner in their relationship and that she paid the rent in the home that they shared. Davidson also said he does not get royalties for Grande's song named after him, titled "Pete Davidson." This is where it gets really sad.
Davidson mused:
If we break up, and we won't — we will — but we won't... no, I'm kidding! But like, in 10 years if God forbid that ever happened, there will be a song called 'Pete Davidson,' like, playing in speakers at K-Mart, and I'll be working there.
You can watch his whole interview in the video below or fast forward to his breakup joke at 2:50.
I'd say something poetic like "all good things must come to an end," but that's depressing. According to TMZ, both parties simply agree this is not the right time to be together and that the two "still have love for each other."
Fans are waiting on official statements from both parties.