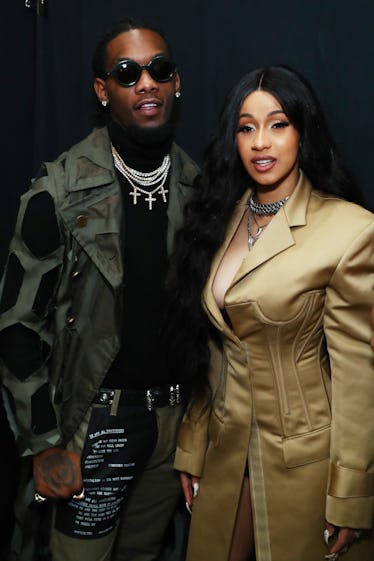 Offset's Alleged Mistress Just Apologized To Cardi B In This Shocking Video
Astrid Stawiarz/Getty Images Entertainment/Getty Images
Cardi B announced in a sad Instagram post on Dec. 5 that she and Offset are getting a divorce. The couple had been married for a little over a year by the time of Cardi's announcement, and she said it was because they grew out of love with each other. But now, there's a video of Offset's reported mistress apologizing to Cardi B that has the internet so confused. Elite Daily reached out to Cardi B and Offset's teams for comment on the claims made in the video, but did not hear back by the time of publication.
"I've been trying to work things out with my baby father for a hot minute now," Cardi started off in her Instagram announcement on Dec. 5. "We're really good friends and you know we're really good business partners. And you know he's always someone that I run to to talk to, and we got a lot of love for each other. But things just haven't been working out between us for a long time, and it's nobody's fault."
"I guess we grew out of love," Cardi continued, "but we're not together anymore. I don't know, it might take time to get a divorce. And I'm always gonna have a lot of love for him because he is my daughter's father. And yeah."
Cardi was surprisingly calm in the video, but she was still visibly sad about delivering the news. Offset's reaction to Cardi's announcement was to comment on her video "y'all won," which people on Twitter felt was a weird thing to say, given the cheating allegations surrounding him.
TMZ reports that Offset reportedly tried to set up a threesome with rapper Cuban Doll and Instagram model Summer Bunni, and fans on Twitter are speculating that that was what ultimately ended Cardi and Offset's marriage. Neither Cardi B nor Offset have commented on these rumors.
Adding more fuel to that rumor mill is 20-year-old Summer Bunni, who released a tearful video apologizing to Cardi B for her reported actions.
In the video, she said she wasn't aware of how serious Cardi B and Offset's marriage was... I mean, shouldn't the fact that they're married show enough how serious their relationship is? Girl.
She spent most of the video apologizing to Cardi through tears. She started off by saying, "I have not messed with Offset since he's had his baby. I didn't know how serious his marriage was... It took until today to get into this, seeing everything."
"I never wanted to break up a happy home," she said later in the video. Bunni wrapped up the video by saying said she had not spoken to Cardi B about her reported relationship with Offset.
People on Twitter are confused about how she didn't realize that a marriage was serious.
Cardi B and Offset have not publicly responded to Summer Bunni's video.
Cardi B's announcement about her and Offset's impending divorce was a super vulnerable moment for the rapper.
She captioned the post, "My heart."
First of all, that's an extremely cute baby. Second, this whole Summer Bunni thing is so confusing. Maybe we'll hear about it in some Cardi B music one day.