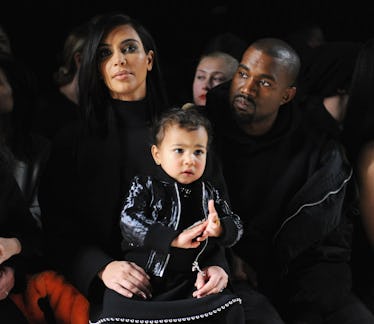 This Video Of North West Singing Kanye's "No Mistakes" Has Twitter Fans Freaking Out
Craig Barritt/Getty Images Entertainment/Getty Images
Kanye West dropped his new seven-track album called Ye on Friday, June 1, and people cannot stop talking about it. Thanks to West's recent resurgence on Twitter ahead of this album's release, everybody was wondering what his new music would sound like. West shared the tracks during a secret listening party in Wyoming last week, but I don't think any of the songs sounded like the video he shared on Twitter on Sunday, June 3. This video of North West singing Kanye's "No Mistakes" has his fans on Twitter freaking out about how adorable she is.
West shared the video of his oldest daughter on Sunday morning, and you can see her singing one of her dad's latest tracks to the camera. She sweetly sings, "Make no mistake, I still love you. Make no mistake, I still love you." Those lyrics are from the fifth track on the Ye album called "No Mistakes."
The cute video was shared on West's Twitter account with a simple caption of three heart-eyed emojis. Whether or not you're a fan of West and his music, most people on Twitter agree that this video of North is totally delightful. Also, she's rocking a nightgown and drinking a Yoo-hoo chocolate drink while expertly singing her dad's track, so North is pretty much crushing it on all fronts in this video.
As soon as West posted the video, fans couldn't help but share how cute North is in it. As of Sunday morning, the video had 1.67 million views and over 13,000 retweets.
Pretty much all of Twitter is in agreement that North's 10-second cover of "No Mistakes" is one of the cutest things they've seen in awhile.
The Sunday morning tweet wasn't the only time West was showing major love for his daughter. Apparently the Ye track, "Violent Crimes," is about both of West's daughters, North and Chicago. Yeezy showed his more sentimental side with his seventh and last track on the album with lyrics like, "Don't you grow up in a hurry, your mom'll be worried / It was all part of the story, even the scary nights." He even raps about wanting to protect his daughters from problems women face as they grow up in society. West sings,
I pray that you don't get it all at once / Curves under your dress, I know it's all pervs on the net / All in the comments, you wanna vomit / That's your baby, you love her to death.
From the heartfelt lyrics in the song, you can tell West really has deep and unconditional love for his daughters — and it's refreshing to hear a controversy-free song from the Ye singer.
Since the Ye album came out following some controversial remarks from West on Twitter and in interviews over the past few months, some of the song lyrics address the controversy. In "Never Leave," West apparently raps about how Kim Kardashian reacted when West made comments on TMZ Live in May claiming that slavery "...sounds like a choice." In "Never Leave," West raps,
Wife calling screaming saying we're about to lose it all I had to calm her down 'cos she couldn't breathe, I told her she could leave me now but she wouldn't leave.
It appears that Kardashian wasn't too happy following West's slavery comments, but she's stood by her man and taken up for him the entire time.
West even addressed the Tristan Thompson cheating on Khloé Kardashian scandal in the track "All Mine." West's lyrics about the drama go, "All these THOTS on Christian Mingle... That's what almost got Tristan single." Damn, he really went there.
Thankfully when it comes to his kids, West seems to only show his love for them, and you can see in the latest video of North that they love him right back. Family-time Yeezy sure knows how to bring the feels.