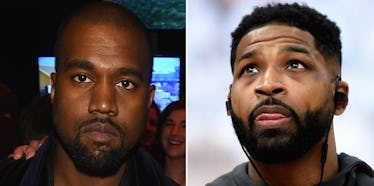 Kanye West Addresses Tristan Thompson's Cheating Rumors On His New Album & OMG
Larry Busacca/Jason Miller/Getty Images
New Kanye West music is here. The rapper had a listening party for his new seven-track album, simply titled Ye, on Thursday, May 31 in an open field in Wyoming. Kim Kardashian posted videos from the party live to her Instagram story, but the full live stream went down on the WAV app where fans could watch and listen for free. On the album, Kanye West addresses Tristan Thompson's cheating rumors and it honestly made me audibly gasp.
In one of the songs on the album, West raps, "All these THOTS on Christian Mingle... That's what almost got Tristan single." Did you just gasp at that too? At first, I was genuinely shocked Kanye addressed it, but after mulling it over for a bit, everything about Kanye West makes the fact that he called out Thompson's alleged infidelity on his new album make sense.
Tristan Thompson reportedly cheated on Khloé Kardashian multiple times throughout her pregnancy. The Daily Mail and TMZ released videos on April 10 reportedly showing Thompson kissing another woman and seemingly hanging out with women in bars from different moments over the last 10 months. On April 12, Khloé Kardashian gave birth to their daughter, True Thompson. It was a dramatic and stressful time, to say the least. Elite Daily reached out to Kardashian and Thompson's teams for comment on the cheating reports at the time, but did not hear back by the time of publication.
Fans lost it at the line addressing Thompson's reported cheating scandal on Ye.
I really think the Christian Mingle line was just used because it's a dating app that rhymes with single. Let's not take that line at face value and assume it means that Tristan Thompson used Christian Mingle to cheat on Khloé Kardashian. If he did, I quit everything.
Always one to pull most of his skeletons out of the closet through his music, West also addressed the widespread criticism he received after he went on a weeks-long Twitter rant and did interviews during which he expressed support for Donald Trump, said slavery was a choice, and said people criticizing him online were trying to oppress his "free thought." The lines about this whole ordeal were all about Kim Kardashian.
On the first verse of the song "Wouldn't Leave," West raps,
They say, 'build your own,' I said, 'How, Sway?' / I said, 'Slavery a choice.' They say, 'How, Ye?' / Just imagine if they caught me on a wild day / Now I'm on fifty blogs gettin' fifty calls / My wife callin', screamin', say, 'we 'bout to lose it all!' / Had to calm her down 'cause she couldn't breathe / Told her she could leave me now / But she wouldn't leave / And I know you and me
The song closes out with an even more intense verse. West and Ty Dolla $ign rap,
For any guy that ever f*cked up (love me or hate me) / Ever embarrassed they girl (love me or hate me) / Ever embarrassed they wife (gone when you miss me) / She told you not to do that sh*t (ohh) / She told you you's gon' f*ck the money up / But you ain't wanna listen, did you? / Keep that same energy / Keep that same energy / Now you testing her loyalty / This what they mean when they say 'For better or for worse,' huh? / For every damn female that stuck with they dude / Through the best times, through the worst times / This for you
The line about Tristan Thompson is on the track "All Mine." The verse goes,
If I pull up with a Kerry Washington, that's gon' be an enormous scandal / I could have Naomi Campbell and still might want me a Stormy Daniels / Sometimes, you gotta back to boss up / I call that taking Corey Gambles / Find yourself up in the food court / You might have to enjoy your sample / All these thots on Christian Mingle almost what got Tristan single / If you don't ball like him or Kobe, guarantee that b*tch gonna leave you
That last line... yikes. I honestly expected this to be on the song "Yikes," but alas, it's on "All Mine."
1. I Thought About Killing You
2. Yikes
3. All Mine (featuring Ty Dolla $ign and Valee)
4. Wouldn't Leave (featuring Jeremih, PARTYNEXTDOOR, and Ty Dolla $ign)
5. No Mistakes (featuring Charlie Wilson and Kid Cudi)
6. Ghost Town (featuring 070 Shake, John Legend, and Kid Cudi)
7. Violent Crimes (featuring DeJ Loaf, Nicki Minaj, and Willow Smith)
Kanye West and Kid Cudi reportedly have a collaboration album coming out on June 8 called Kids See Ghost, so get ready, people. Even more Kanye is coming.