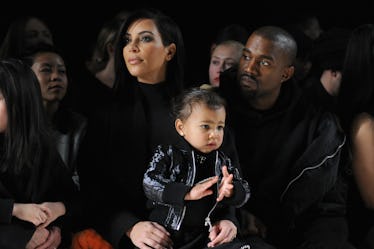 Kanye West's New Song Might Be About His Daughters, & We're In Our Feels
Craig Barritt/Getty Images Entertainment/Getty Images
Well, Kanye just dropped new music, so some of us know exactly what we'll be doing at work this Friday. The album has been highly-anticipated since the rapper took to Twitter to keep his fans up-to-date on its progress. On Thursday, May 31, West held a secret listening party in Wyoming, and now we're officially being blessed with seven new tracks. Of course, decoding the lyrics and what each song is about is always a part of the game. Right now, many of us are wondering: Is "Violent Crimes" about Chicago and North West? Certain lines suggest this is a straight ode to Kim Kardashian and Yeezy's little ones.
Personally, I've had mixed feelings about Kanye's music over the years. When he dropped his last album, The Life of Pablo, back in 2016, I liked the songs on it that would at some point make an appearance in my local college bars. But, others just didn't do anything for me. I remember watching the music video for "Fade" with my roommates, when it premiered at MTV's Video Music Awards. What workout do I need to do in order to dance like Teyana Taylor? Hit a girl up, if you know.
Truth is, thanks to his rants on Twitter and fashion lines, Kanye is almost always in the spotlight it seems. Everyone at least knows a little something about his family or what's happening in the Kardashian household. His daughters, North and Chicago West, give us all the feels whenever we see pictures of them, or they come to an award show. So, let's talk about the song he dropped that could be about the adorable little ladies in his life.
On the ye album, "Violent Crimes" is the last track. It starts with what feels like a dream sequence: delicate singing, low-key production, long piano tones, and lyrics that could suggest a lullaby. I'm not saying that I'll be falling asleep to this song at night, but it definitely sends us down nostalgia lane.
The chorus is introduced early, and there are a few lines that could be directed at his daughters.
Don't you grow up in a hurry, your mom'll be worried / It was all part of the story, even the scary nights.
"Mom," in this case, is of course, Kim Kardashian — and can we even blame her for being worried? With a family that's constantly in the magazines and media, it comes to no surprise that she wouldn't want them to grow up too fast.
Kanye begins to rap about how his perspective on women has changed since he's become a father.
'Til niggas have daughters, now they precautious / Father forgive me, I'm scared of the karma / 'Cause now I see women as somethin' to nurture / Not somethin' to conquer / I hope she like Nicki, I'll make her a monster / Not havin' menages / I'm just being silly.
Are you in your feels, yet? If not, read on.
No daddy don't play, not when it come to they daughters / Don't do yoga, don't do pilates / Just play piano and stick to karate.
He then continues to talk about all of the heat women face when they grow up, and how he wishes to protect his kids from that same scrutiny.
I pray that you don't get it all at once / Curves under your dress, I know it's all pervs on the net / All in the comments, you wanna vomit / That's your baby, you love her to death.
There's truly no question, especially after listening to "Violent Crimes," about how much Kanye loves his family.
He starts getting emotional about what's to come, like any dad with a big heart would. *Cue the rest of our tears.*
I swear that these times is the wildest ... Moment of silence / Next she'll be off to college / And then at the altar.
Don't worry, Yeezy. We're not ready for your kids to grow up, either. After all, have you seen how cute North West and Penelope Disick are hanging out together?
All in all, the clues and lyrics seem to be pretty clear, and there's not too much decoding to do before you realize that "Violent Crimes" could very well be about Kanye's daughters. But, give the song a listen for yourself and let Yeezy put you in the best of feels.