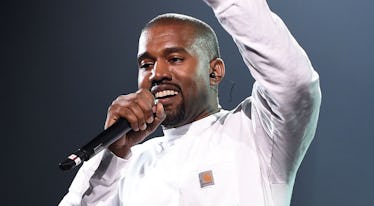 Here's How To Stream 'Ye,' Kanye West's Highly-Anticipated New Album
Dimitrios Kambouris/Getty Images for Live Nation
Kanye West has been documenting his progress recording his buzzed-about new album, Ye, over the past couple months all over social media. Well, after live-streaming a listening party on the WAV app at midnight on Friday, June 1, all the way out in Jackson Hole, Wyoming (where he recorded the album), Kanye decided to go on ahead and drop the album for the world to listen to. You can finally listen to the music Kanye has been working on so diligently (and controversially) for so long. Now, you're probably wondering how to stream Kanye West's album, Ye, for yourself.
I don't blame you for wanting to get your hands on that stream ASAP. The lead-up to Kanye dropping this album has been so controversial and tumultuous. From the backlash over his TMZ interview where he called 400 years of slavery "a choice," to his polarizing support of President Trump, he had plenty of material to write a, let's say, relevant and meaningful album. Actually, it's hard to believe that, after everything, he only got seven tracks laid down before he decided to drop Ye. I was sure the album would have at least 15 tracks after the past few ~inspiring~ months. Minimum.
But alas, you can stream the seven-track album on Spotify below.
You can also stream the music on Tidal and Apple Music.
Already, fans are theorizing about what each track means on Twitter. Two songs, in particular, are causing major buzz among fans because Kanye doesn't mince words addressing the controversies going down in his family circle — including his own.
For example, on the track "All Mine," he straight-up calls out Tristan Thompson for allegedly cheating on his sister-in-law Khloé Kardashian. The track is all about fidelity (and infidelity), and calls out several high-profile celebrities who have cheated on their spouses. Unless you've been living under a rock, you probably know all about the Thompson cheating rumors. He was reportedly recorded on video on two separate occasions, seemingly kissing other women while Khloé was pregnant with their daughter, True. Elite Daily reached out to Kardashian and Thompon's teams regarding the reports but did not hear back by the time of publication. So, it goes without saying that Kanye gets pretty personal with Thompson, rapping:
All these thots on Christian Mingle / Almost what got Tristan single / If you don't ball like him or Kobe / Guarantee that b*tch gonna leave you
Woah! Shots fired!
Kanye seems to be coming right out and suggesting that if Tristan weren't a big NBA star, Khloé would have left him. But Khloé did end up divorcing her ex-husband, Lamar Odom, and he was a big NBA star, too. So, not quite accurate, Kanye.
In another track called "Wouldn't Leave," Kanye details the highly-reported phone call that transpired between him and his wife, Kim Kardashian West (heard of her?), after his controversial TMZ interview where he suggested 400 years of slavery was "a choice." Let's just say that, based on his lyrics, the phone call was not calm or collected.
I said, 'Slavery a choice.' They say, 'How, Ye?' / Just imagine if they caught me on a wild day / Now I'm on fifty blogs gettin' fifty calls / My wife callin', screamin', say, 'we 'bout to lose it all!' / Had to calm her down 'cause she couldn't breathe
Dang. Apparently, the phone call got heavy quick, because Kanye suggests in his lyrics that he told Kim she could leave him.
Told her she could leave me now / But she wouldn't leave / And I know you and me
Well, we all know she didn't. Actually, she went to the bat for him on Twitter defending him from the backlash over his controversial comments. That's no small thing considering she received a whole wave of backlash of her own because of her unwavering support for Kanye.
Anyway, that wasn't even the least of what goes down on Kanye's new album. He even raps about Stormy Daniels at one point! Clearly, Kanye never shies away from controversy, for better or for worse. Now, excuse me, I need to go listen to Ye again to see if I missed anything.