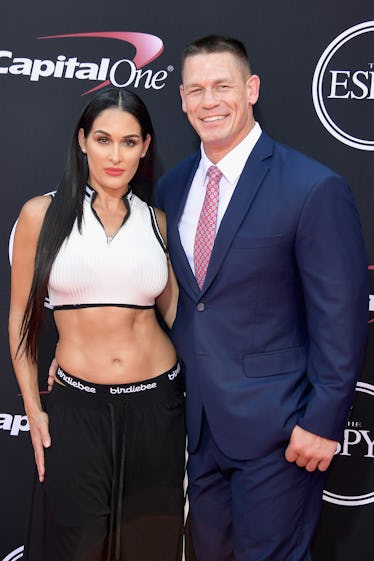 This Video Of Nikki Bella Admitting She's Grown Apart From John Cena Is So Heartbreaking
Matt Winkelmeyer/Getty Images Entertainment/Getty Images
It's been difficult watching the whole on-again, off-again game ex-fiancés Nikki Bella and John Cena have been playing. In real life, fans know they officially put a halt to their wedding plans and are currently on the outs. While Cena's made it clear he wants to make things work, Bella isn't jumping at the opportunity. It's bizarre when big things happen to reality stars because fans typically hear about it first and then watch how it actually played out when it airs on TV second. For example, there's a video of Nikki Bella admitting she's grown apart from John Cena in the upcoming episode of Total Bellas and it's heartbreaking to see.
In the teaser for Sunday, July 22nd's episode, Bella and her girlfriends are out for tea when the topic of her wedding pops up. At this point in the show, Bella has already removed her bridesmaids from the ceremony and is focusing on being clear and direct with her wants and needs. A friend asks her what's been the most fun part of planning her wedding and it looks like Bella draws a blank. According to her, Cena's one request is that she shows up.
Hm... a little ominous.
Her friends try to offer support by applauding her for finding her voice and being clear about her desires, but Bella seems distracted. In her one-on-one interview with cameras, she explains, "Anything that's wedding related, it's just...I feel like I'm continuing to grow more apart for John, and I should be growing closer to him." She even admits to her friends it's hard for her to be open because she hates hurting people.
It seems like Bella is in a conflicting situation. On one hand, she's working to "find her voice" and on the other, she's clearly not being honest about her feelings. Bella tells cameras,
It's really hard when my girls are saying they love how open and honest I've been in my relationship and how much more I've been using my voice, but I don't want to ruin anyone's weekend. They're all here for me. So, even though I'm feeling all these emotions, I just think I want to keep this to myself for a bit longer. As long as I can at least.
Take a look.
Her commentary is clearly authentic, but also in direct contrast to some of her comments in the most recent Total Bellas episode. In Sunday, July 15th's episode, Bella describes how difficult it is when Cena has sex scenes in his films. (He showed his butt in the movie Blockers and had a sex scene with Amy Schumer in Trainwreck.) "Imagine watching your man do a sex scene and have the whole world see his big butt," she said. "You know, you get visuals. I swear, I couldn't masturbate forever because I just think of the sex scene."
Yikes. It's definitely complicated. Fans can tune in to hear more straight from Bella on Sunday, July 22, at 9 p.m. on E!
Check out the entire Gen Why series and other videos on Facebook and the Bustle app across Apple TV, Roku, and Amazon Fire TV.