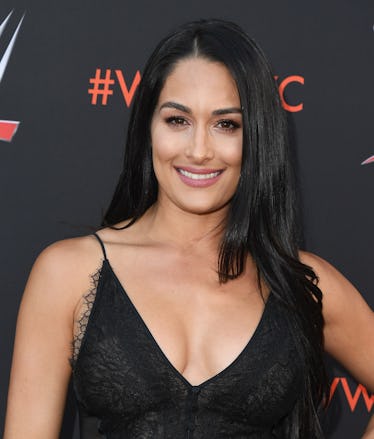 This Video Of Nikki Bella Picking Her Wedding Dress Is Bittersweet Since The Wedding Is Off
Jon Kopaloff/Getty Images Entertainment/Getty Images
Nikki Bella and John Cena have taken us all on an emotional roller coaster ride through their relationship. One day, they're calling it quits, and the next they're trying to work through it. It's been tough for fans, but clearly much tougher for Bella and Cena themselves to deal with such a private matter in such a public space. But everyone just wants the two of them to be happy — even if that means taking time apart to ultimately see what they need in life. We recently were updated on the status of the relationship, which basically confirmed that they are "just friends," a was pretty devastating development. But what's even more devastating is watching the video of Nikki Bella picking her wedding dress out on Total Bellas when she was engaged, because we sadly know exactly how it's all going to end.
On Sunday's upcoming episode of Total Bellas, Nikki Bella is searching for her wedding gown with twin sister Brie. The clip starts out with Bella walking out in a cap-sleeved lace ball gown and she looks like a damn dream. Despite how stunning the dress is, Bella says that she always envisioned herself wearing a long-sleeved gown for her wedding day, and atelier Mark Ingram notes that the gown has a "strong look, but also sweet," adding that maybe the dress looks "too sweet" on the WWE star.
The dress literally gave me life, but Bella ultimately decides against it, and goes back to the dressing room to put on a different look.
She then comes out in a dress peppered with gold accents, and she looks like royalty (and she also *kind of* looks like Meghan Markle, so this was giving me a really regal vibe). But then the group talks about how this dress would be a real focal point of the style of the wedding, and ultimately, sister Brie tells Nikki that she feels that this isn't the dress "for her wedding day," and so back to the dressing room Nikki goes.
Again, I was living for this dress as well, but then it got the ax, and my dreams were crushed once more.
Finally, Nikki comes out in a strapless lace ball gown, and everyone in the room falls instantly in love. "Oh my gosh, I just got goosebumps," Brie said. "It's stunning. I feel like this is exactly what you've been looking for."
"I love this. I feel like a Barbie!," Nikki responds.
And it's true — Nikki looks beyond stunning. But THEN they add a long-sleeved sweetheart neckline overlay over the gown, and everyone basically loses it, because it's obvious that this dress is made for Nikki and her big day:
"It's so funny because you always know when a bride finds her dress," Brie tells the camera in the confessional-style video. "When they walk out and it's like this big smile and they feel like a queen, you're just like, 'That's it. That's the smile I've been looking for lately!'"
I love this so much, yet it's breaking my heart simultaneously.
Nikki's sister continues, saying, "I just feel like now we've just made a turn, like things are gonna start feeling really special. Like, 'Hey I'm getting married!'"
The reason it's so sad is that we all know where things are at with Nikki and John today.
In a vlog that Bella posted on her official YouTube channel on July 1, we finally an update of where things stand in Bella and Cena's relationship, and it was more than a little devastating. She said:
I'll admit my relationship... it has been in a super emotional roller coaster ride, and I think it's hard for people to understand because we film and then things get shown a few months after and I think people are like, 'Are they together? Are they not?' ... I feel like I have to ... say what's the update on John and I, but right now we're just friends.
Basically, I'm crushed right now that the two are "just friends," but Bella did add that they are both "trying to work on us," ending the video by telling her fans, "I don't know, I do have hope for us."
If Nikki has hope, then damnit, so do I. Keeping my fingers crossed that we can see Nikki in that wedding gown for real next time, walking down the aisle to marry the man of her dreams.