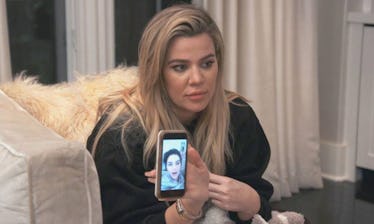 Kim & Khloe Kardashian Just Dragged Kendall Jenner Into Their Beef With Kourtney
YouTube
The Kardashian drama continues. Surprise, surprise. Things have been tense on this season of Keeping Up With The Kardashians due to a clear divide between Kourtney Kardashian and her sisters, Khloé and Kim. The three women have been fighting over... well, I'm not really sure what... but in the latest clip teasing the upcoming episode on Aug. 26, Kendall Jenner is dragged into it. If there's one thing fans have learned about a Kardashian fight it's that everyone else in the family MUST take sides. This video of Kim and Khloé Kardashian confronting Kendall Jenner about Kourtney is awkward as hell, and obviously I can't wait to tune in to watch it in totality. Sorry, but not really.
The last episode of KUWTK left off with palpable tension in the air. In this most recent clip, it sounds like Kourtney vented to her little sister Kenny over what's been going on, and together she and Jenner came up with some theories. Khloé explains she spoke with Kourtney on the phone who told her, "This isn't to criticize you or anything like that... me and Kendall were talking about you." According to Khloé, Kourtney told her, "You're really scared about how your life is going to turn out." Essentially, Kourtney and Kendall decided Khloé must be "acting out" because she is nervous about leaving her old life behind, presumably due to her incoming new baby etc. etc. Kim looks at Khloé in disbelief and says, "She's so off."
Khloé then calls Kendall to confront her for "talking sh*t," who immediately says, "We weren't talking that much sh*t!" adding, "Kourt is my best friend right now." I mean geez, talk about taking sides, right? To make matters worse, Kendall reveals Kourtney told her she is considering taking her kids on vacation over the holidays and away from the family. Yikes. "I thought that was weird, but I tried to convince her out of it a little bit," Kendall said. That doesn't sit well with Khloé. Kim either, for that matter. In fact, the KKW Beauty mogul wonders if all of this is a "cry for help" from Kourtney. "Is she the new Rob?" she muses.
Awkward.
During her one-on-one interview with cameras, Khloé explains, "I just think given everything that's gone on, the last thing we need is separation like this. The divide is gonna get worse and worse the more time that we just ignore what's really going on."
Well, that seems reasonable. While Khloé always does her best to be the emotional voice of reason, Kim is, like, so over it. "She [Kourtney] drives me so crazy, I just don't even know what to do," she says. Not helpful, Kim.
Watch the drah-mah here.
I wish I could tell you that I'm above it all and not taking sides, but that's a lie. I definitely am. (To be fair, that's kind of the point of the whole show.) I just have to tune in on Sunday, Aug. 26 at 9 p.m. on E! to find out where I fall this week.