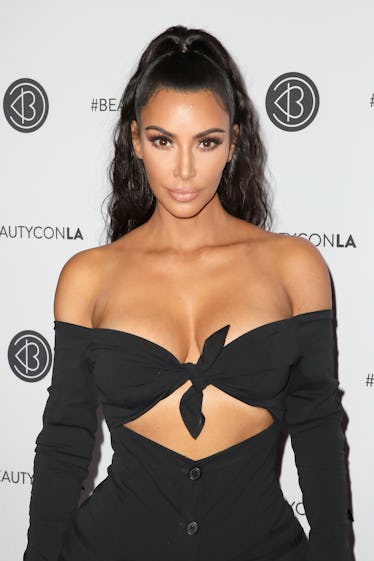 Kim Kardashian Is Totally "Baffled" By How Much Her Voice Has Changed Since 2007 & So Am I
David Livingston/Getty Images Entertainment/Getty Images
Do you ever go back and watch old home movies of yourself from years ago and cringe at your old self? I don't know about you, but whenever I hear my voice from any sort of recording, I want to find the source and burn it immediately. But I guess there's something nostalgic about seeing an old video of yourself and realizing just how much you've changed as the years have past, and apparently, celebs feel the same way, because this video of Kim Kardashian's old voice is bringing back some memories for Kim herself.
On Tuesday, July 24, Ellen DeGeneres tweeted out a clip of the time when Kim Kardashian made her first appearance on The Ellen DeGeneres Show in 2010. DeGeneres wrote in her tweet, "Happy #KardashianWeek, @KimKardashian! Remember your first appearance on my show?"
The clip is clearly from a different time: even though Kardashian looks like an actual goddess, you can tell that this is from many moons ago. The hair, the wardrobe, and, what's noticeable even to Kim, her voice. Don't get me wrong, it still sounds like Kim K., but there's something a bit more... youthful to it? Perhaps more playful?
Check out the clip below and see if you can pinpoint what it is exactly that makes her voice sound so different from now:
If you can't seem to figure out what it is, join the club, because neither can Kim. She retweeted the video, writing, "I'm really baffled how my voice has changed so much!":
While Kim's ever-changing voice might forever remain a mystery, there's one thing from the interview that her fans can take away — that her stance on Taylor Swift has most definitely changed since 2010.
In the clip, we see DeGeneres play "Who Wrote That Tweet" with Kardashian, which was basically DeGeneres challenging herself to see if she could tell what tweet was written by Kardashian or not. While playing the game, a tweet that was in question read "The hardest part about motivating myself to run is finding matching socks," which DeGeneres and Kardashian both agree was not tweeted out by Kardashian herself.
When DeGeneres asked who wrote that tweet, Kardashian immediately said, "I would say Taylor Swift," which... DING DING DING! Was the correct response.
"You're right. You're right! How'd you know that?," DeGeneres asked Kardashian.
"I follow her [on Twitter], so I know that," Kardashian replied.
I'm going to have to say that this is probably the last time we have actual footage of Kim Kardashian gushing about Taylor Swift, and I am LIVING FOR IT. As well all know, both Kim and Taylor are known for throwing shade at each other in massive amounts, so to see a throwback video before sh*t started going down is actually kind of precious.
The drama between Kardashian and Swift continued at Swift's Reputation concert, where she spoke to her audience about the time when "someone" called her a snake on social media (hello, Kimye), but she decided to use the label as a term of empowerment instead. She told her audience,
A couple of years ago, someone called me a snake on social media and it caught on. And then a lot of people were calling me a lot of names on social media. And I went through some really low times for a while because of it. I went through some times when I didn't know if I was gonna get to do this anymore and I guess the snakes… I wanted to send a message to you guys that if someone uses name calling to bully you on social media and even if a lot of people jump on board with it, that doesn't have to beat you. It can strengthen you instead.
Ugh. Can't we all just go back to 2010 again and play nice?