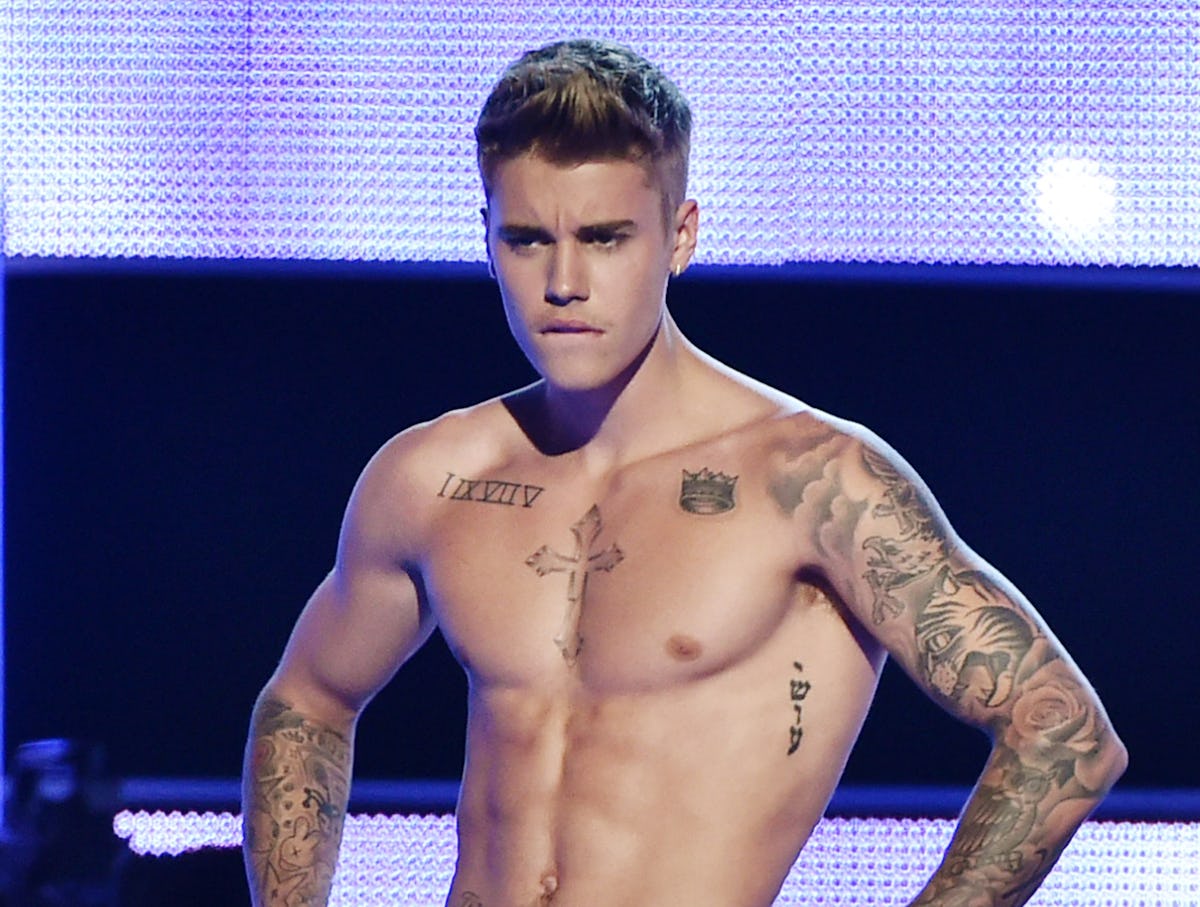 Justin Bieber Decorated His Christmas Tree Shirtless & It'll Make You Feel Things
Theo Wargo/Getty Images Entertainment/Getty Images
Good morning and Merry Christmas from a shirtless Justin Bieber! The "Sorry" singer gifted fans early morning on Dec. 14 with a weirdly soothing Instagram post (that I've for some reason watched five times so far). This video of Justin Bieber decorating his Christmas tree tells me two things. One, he is an early riser. Two, his ceilings are much lower than I thought they would be.
In the video, a topless and tattooed Biebs dances around a modest Christmas tree to the tune of "Jingle Bell Rock." The video is time-lapsed, so in just a few short seconds viewers can see the finished product come to life. From the back, Bieber looks like his old teenage boy self, and something about the post makes me nostalgic and happy at the same time.
Maybe the video brings me so much joy because I know how rough Bieber has had it in the past few years. Maybe it makes me smile because I love Christmas time. Maybe I love it so much because secretly I think Selena Gomez is behind the camera, and that these two got up extra early in Los Angeles to goof off with Christmas decorations and share a cup of delicious peppermint coffee.
Who knows why I love it so much?
You tell me.
Friends of Bieber's have been candid about the singer's transformative past few months, ever since he canceled his Purpose world tour.
Bieber spoke directly to his fans about the decision to cancel his shows in a heartfelt Instagram post in August. He wrote,
...I have let my insecurities get the best of me at times, I let my broken relationships dictate the way I acted toward people and the way I treated them! I let bitterness, jealousy and fear run my life.!!!! I am extremely blessed to have people in the past few years help me build my character back up reminding me of who I am and who I want to be!!!.
... I've learned the more you appreciate your calling the more you want to protect your calling. Me taking this time right now is me saying I want to be SUSTAINABLE.. I want my career to be sustainable, but I also want my mind heart and soul to be sustainable. So that I can be the man I want to be, the husband I eventually want to be and the father I want to be.
Based on reports, it sounds like the time off has been wonderful for him.
A source told People magazine that he is "doing much better." They said,
It was a really bad scene. He was just not himself. He was profoundly unhappy. Exhausted, low energy. He was just miserable. He needed to step back, recalibrate, and then figure out his next move.
They added,
It has been a process, but he's doing so much better. You can talk to him and see that the old Justin is coming back. He seems happier, more energetic. It's encouraging. He's not completely there, but he's definitely on his way.
Based on this video, it seems like it.
Reports say that he and Selena Gomez will be spending the holidays apart, but that doesn't mean the newly reunited couple isn't going strong.
An insider told E! News,
They both spent Thanksgiving with their families. Justin went to Canada and Selena was in Texas. They are still doing really well together, but they agreed it was best for them to be with their families for the holiday.
Look, whatever. Justin and Selena, we think you guys seriously (jingle bell) rock.
Check out the entire Gen Why series and other videos on Facebook and the Bustle app across Apple TV, Roku, and Amazon Fire TV.