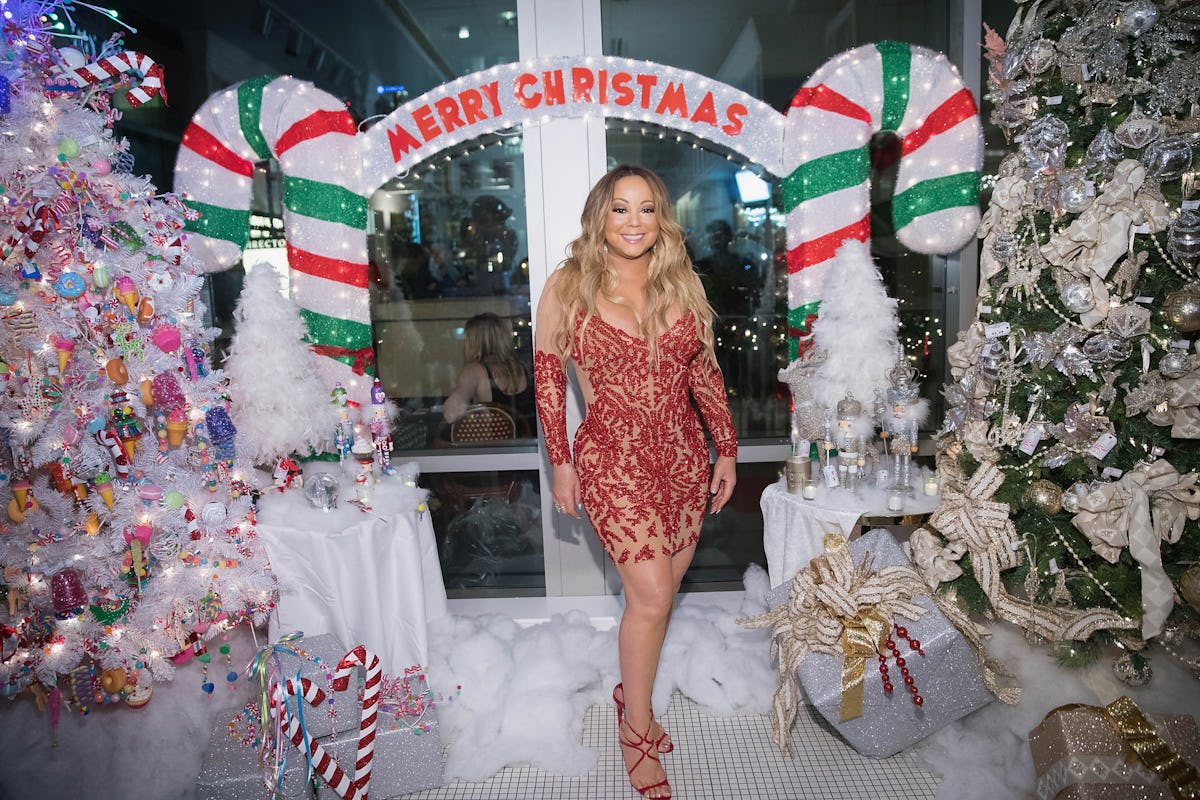 This Christmas Party Playlist Makes Sure Your Tree Isn't The Only Thing That's Lit
Mat Hayward/Getty Images Entertainment/Getty Images
You guys, I was literally handed the greatest gift this holiday season. I was told to put together the ultimate Christmas party playlist, and I feel like my whole life has been leading up to this moment. NO ONE LOVES CHRISTMAS MORE THAN ME. NO ONE!!!!!!
I love everything about it.
I love the merriment. I love the decorations. I love the commercialization. I love the extreme emphasis on material goods. I love Christmas trees. I love ugly Christmas sweaters. I love being forced to spend time with abstract family members. I love matching pajama sets. I love gaining five to seven pounds in one week, AND I LOVE CHRISTMAS MUSIC.
Here's the trick to a perfect Christmas party playlist: variety. You want a solid mix of original tunes and fresh remakes. Always include Michael Bublé and Mariah Carey. Never include Britney Spears. Do branch out to duets and live performances. Never — and I mean NEVER — include that "The Christmas Shoes" song. What are you, a freaking monster?
The perfect X-mas playlist includes but is not limited to the 34 tracks below, and I encourage you to just hit "shuffle" when you play it. If you try to categorize it by mood or tone, you risk hitting too many slow songs in a row and lulling yourself off to an early Christmas snooze. But, if you get too many jazzy numbers in a row, you'll never get the warm and fuzzies that come with a good old-fashioned Boys II Men rendition of "Silent Night."
Just light a few candles, pop some cookies in the oven, get your Aunt Jane another glass of wine, and let's do the damn thing.
Behold: The ultimate Christmas party playlist!
1. "All I Want For Christmas Is You" - Mariah Carey
2. "Merry Christmas and Happy Holidays" - N'Sync
3. "The First Noel" - Josh Groban & Faith Hill
4. "Run Run Rudolph" - Kelly Clarkson
5. "White Christmas" - Bing Crosby (obviously)
6. "Grandma Got Run Over By A Reindeer" - Elmo & Patsy
7. "You're A Mean One, Mr. Grinch" - Original (Thurl Ravenscroft)
8. "12 Days Of Christmas" - Straight No Chaser
9. "Silent Night" - Boys II Men
10. "Last Christmas" - Glee Cast
11. "Christmas Time Is Here" - Sarah McLachlan
12. "Christmas (Baby Please Come Home)" - Michael Bublé
13. "Christmas Eve/Sarajevo" - Trans-Siberian Orchestra
14. "Mele Kalikimaka" - Bing Crosby
15. "Little Drummer Boy" - Pentatonix
16. "Feliz Navidad" - José Feliciano
17. "Have Yourself A Merry Little Christmas" - Frank Sinatra
18. "The Christmas Song" - Nat King Cole
19. "I Saw Mommy Kissing Santa Clause" - The Jackson 5
20. "Santa Baby" - Eartha Kitt
21. "Blue Christmas" - Elvis Presley
22. "Little Saint Nick" - The Beach Boys
23. "The Chipmunk Song" - Alvin and The Chipmunks
24. "It's The Most Wonderful Time Of The Year" - Andy Williams
25. "Rockin' Around The Christmas Tree" - Brenda Lee
26. "Walking In A Winter Wonderland" - Dean Martin
27. "Santa Claus Is Comin' To Town" - Bruce Springsteen
28. "Mistletoe" - Justin Bieber
29. "Santa Tell Me" - Ariana Grande
30. "Everyday Is Christmas" - Sia
31. "O Holy Night" - Ellie Goulding
32. "Dominick The Donkey" - Lou Monte
33. "A Holly Jolly Christmas" - Burl Ives
34. "Do They Know It's Christmas?" - Band Aid
I know. You're looking for "Baby It's Cold Outside." If you're like me, your favorite version is probably and weirdly Jessica Simpson and Nick Lachey's. Listen, guys. It's 2017. That song is creepy. It's time to move on.
MERRY CHRISTMAS!
Check out the entire Gen Why series and other videos on Facebook and the Bustle app across Apple TV, Roku, and Amazon Fire TV.