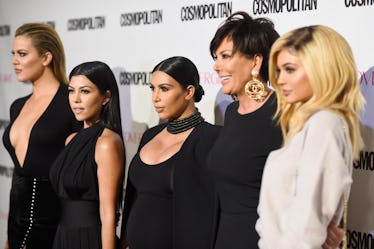 Here's How To Throw A Kristmas Party Like A Kardashian This Holiday
Frazer Harrison/Getty Images Entertainment/Getty Images
Ain't no party like a Kardashian holiday party, 'cause a Kardashian holiday party is iconic. The ladies of the Kardashian-Jenner tribe have made a name for themselves modeling, mogul-ing, and everything in between. However, they are also famously known for their next-level holiday parties. Their parties are glam, gorgeous, and have the most impressive guest list. If you're wondering how to throw a holiday party like the Kardashians — have no fear, there's a few easy steps to ensure your party sparkles.
Every year, Kris Jenner throws the most epic holiday party. Her parties create such a buzz that, last year, Kylie referred to it as "Krismas." OKURRR. Kris Jenner is an angel who truly pulls out all the stops for her friends and family.
Every year the party gets bigger and bigger, and it looks like so much fun I experience an almost deadly case of FOMO. However, with a few of Kris' tricks, anyone can throw an equally amazing holiday party. Below are seven ways to add a little life into your gathering.
1. Make sure your outfit sparkles.
Nothing makes a party sparkle more than the host. If there's a time to pull out all the sequins and glitter — it's now. There are so many ways to make your outfit sparkle. If you're looking to add just a touch, Lulu's has a gorgeous sequin mini skirt for $39.
Sequin Mini Skirt, $39, Lulus
If you want to go all out for the party, try a full sequin dress. You won't regret it. Pretty Little Thing has gorgeous and fun dresses like the one below for $55.
2. Remember — the more the merrier.
While you obviously have the most fun with your ride-or-dies, expand your invite list this year. Mix up the guest list by inviting different friends from various social circles, family members, or co-workers (if appropriate). It's a great chance for guests to mingle and meet new people.
Give the party an extra special feel by sending out invites instead of a group text. A lot of websites have free templates, like these from Greetings Island.
3. Don't be afraid to show your festive side.
Kendall Jenner is probably the most reserved Kardashian-Jenner when it comes to showing her personality to the public. If she can get down at the holiday party and sing carols — you can, too.
Your music playlist is everything — truly the backbone of a great party. Jackie Oshry (AKA @JackieOProblems) has seriously the best holiday tracklist on Spotify. Full of bops to get all your guests in a festive mood.
4. Add a few personalized touches.
If you want your holiday party to stand out from the rest, think about the details. Peruse Pinterest for ideas that will make your party pop and fit your personality. If you love game shows — try these 25 Christmas party games that will keep your guests laughing all night.
If your friends are more of the eating and drinking type — get inspired by a hot chocolate bar.
Keep a warm pot of hot chocolate on a table full of fun mix-ins like marshmallows, peppermint sticks, toffee, and cookies. You could also add adult options, like rum or flavored liqueurs, that will make your guests feel cozy.
5. Take lots of pictures.
Don't take a lot of photos for the sole purpose of humble bragging on social media — do it for the fun of it. Of course, you'll have to snag a few a photos looking amazing in your sparkling outfit, but after that keep it candid.
Try leaving disposable cameras around your party for people to use. It will be such a fun surprise when you get them developed. A five-pack of disposable cameras are available for under $30 on Amazon.
6. Go all out.
If there's a time to be extra AF — it's the holidays. Have fun with it and don't worry about going overboard. Even the cheesiest holiday decor somehow comes to life with the right twinkle lights.
Seriously, Pinterest is your BFF right now.
7. Enjoy yourself.
Don't get caught up in the stress of having the most expensive photo backdrop or an inflatable Santa. At the end of the day all you need is good music and great friends to have an unforgettable holiday party.
Here is a full Snapchat compilation of the Kardashian-Jenner 2016 holiday party as proof that they all had a great time.
Create an unforgettable night with your friends by unlocking your inner Kris Jenner. Happy holidays!
Check out the entire Gen Why series and other videos on Facebook and the Bustle app across Apple TV, Roku, and Amazon Fire TV.