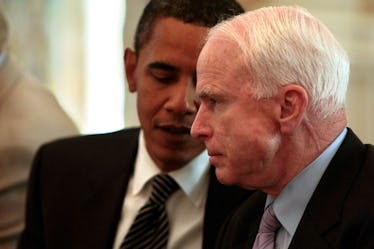 Barack Obama Delivered A Moving Eulogy As A Fitting Tribute At John McCain's Funeral
Chip Somodevilla/Getty Images News/Getty Images
At the Washington National Cathedral on Saturday, Sept. 1, mourners gathered to celebrate the late Sen. John McCain. Among those attending his funeral were people like President George Bush, Senator Elizabeth Warren, and President Barack Obama. Obama, a long-time acquaintance of McCain, had been requested to deliver a eulogy at the ceremony by the senator himself, to which he obliged. And this video of Barack Obama's eulogy for John McCain could not have been more of a perfect tribute.
Obama began his speech by calling McCain an "extraordinary man." He detailed a call from McCain earlier in 2018 to ask Obama to deliver a eulogy at his funeral, and he referred to it as a "singular honor" to speak on Saturday. He praised McCain's ability "to see past differences and search for common ground." Despite the differences, Obama felt an "admiration" for McCain. Obama also lauded McCain's "commitment to something bigger than himself," and he paid respect to McCain's courage during his time as a prisoner of war in Vietnam.
The former presidential opponent of McCain also remembered a time during the 2008 campaign when McCain defended Obama's patriotism during a town hall on the campaign trail. President Obama closed his tribute to McCain by sharing how the late senator was an an example of rising above things like power, party, and money to achieve a higher cause.
McCain passed away on Saturday, Aug. 25 after succumbing to brain cancer. His death came just over a year after he announced that he was diagnosed with glioblastoma, an aggressive form of brain cancer, in July 2017. He was 81.
According to a statement from the senator's office, McCain died shortly before 4:30 p.m. "With the Senator when he passed were his wife Cindy and their family," the statement read in part, per NBC News. "At his death, he had served the United States of America faithfully for sixty years." His death came shortly after McCain's family announced that he had discontinued treatment on Aug. 24.
Following the announcement of McCain's death, there was an outpouring of grief and condolences floating around on social media, including from Hillary Clinton, President Donald Trump, and first daughter Ivanka Trump. President Obama, who ran against McCain during the 2008 presidential election, also offered up some admirable words for the Arizona senator with a lengthy statement shared to Twitter and Facebook on Aug. 25.
John McCain and I were members of different generations, came from completely different backgrounds, and competed at the highest level of politics. But we shared, for all our differences, a fidelity to something higher – the ideals for which generations of Americans and immigrants alike have fought, marched, and sacrificed. We saw our political battles, even, as a privilege, something noble, an opportunity to serve as stewards of those high ideals at home, and to advance them around the world. We saw this country as a place where anything is possible – and citizenship as our patriotic obligation to ensure it forever remains that way.
Obama went on to reference McCain's time in the military — and the more than five years he spent in captivity as a prisoner of war in North Vietnam after his plane was shot down in October 1967. The statement continued:
Few of us have been tested the way John once was, or required to show the kind of courage that he did. But all of us can aspire to the courage to put the greater good above our own. At John's best, he showed us what that means. And for that, we are all in his debt. Michelle and I send our most heartfelt condolences to Cindy and their family.
While McCain and Obama shared different political opinions, they appeared to have the utmost respect for each other. McCain famously defended Obama in after a spectator harshly criticized the former president during a town hall meeting in 2008 to widespread acclaim. The senator also voted against replacing the Obama-era Affordable Care Act (ACA) in July 2017, although he didn't initially vote in favor of the policy in 2010.
Although McCain's life has come to an end, honorable messages like Obama's are special reminders that the senator and his legacy will forever live on.