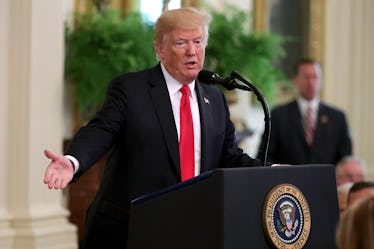 Donald Trump Shared A Sympathetic Message About John McCain's Death
Chip Somodevilla/Getty Images News/Getty Images
On Saturday, Aug. 25, the office of Arizona Senator John McCain announced that the senator had died after a yearlong fight with brain cancer. McCain had been diagnosed with glioblastoma, an aggressive form of brain cancer, in July 2017, and announced that he had stopped receiving treatment on Aug. 24, 2018, just one day before he died. In response to the announcement of his death, President Donald Trump tweeted his sympathies about John McCain's death to the senator's family, sharing "our hearts and prayers."
The Republican senator's office shared a statement on Saturday night announcing McCain's death, saying that he had passed away earlier that day in the presence of his wife and family. "Senator John Sidney McCain III died at 4:28 p.m. on August 25, 2018," the statement said, per NBC News. "With the Senator when he passed were his wife Cindy and their family. At his death, he had served the United States of America faithfully for sixty years."
After news of McCain's death broke on Saturday night, President Trump tweeted out a message of sympathy for the senator's family. "My deepest sympathies and respect go out to the family of Senator John McCain," he wrote. "Our hearts and prayers are with you!"
Trump and McCain were frequently at odds during the president's year and a half in office, however. McCain, who had a reputation as a "maverick" who would challenge the Republican party line, was a regular critic of Trump and took public stances against the president on issues such as Trump's call to reinstate Russia in the G7 back in June. "The President has inexplicably shown our adversaries the deference and esteem that should be reserved for our closest allies," McCain said in a statement at the time, per CNBC. "This is the antithesis of so-called 'principled realism' and a sure path to diminishing America's leadership in the world."
Trump, for his part, frequently made McCain the target of his attacks, including famously saying during his campaign that the senator, who had spent five and a half years as a prisoner of war in Vietnam where he was tortured regularly, was not a hero.
"He's not a war hero," Trump said during a campaign rally in Iowa in July 2015, per Business Insider. "He's a war hero because he was captured. I like people that weren't captured." He went on to criticize McCain for losing the 2008 presidential election to Barack Obama, saying "I don't like losers."
Trump also notoriously took umbrage at McCain's deciding vote in the congressional battle to overturn the Affordable Care Act (ACA), otherwise known as Obamacare. In July 2017, McCain shocked many when he cast a dramatic 1:30 a.m. ET vote against replacing the ACA, dashing Trump's hopes for fulfilling his campaign promise to repeal Obamacare (at least at that moment.) Trump later slammed McCain for the move, blaming McCain for the failure of the repeal at a February 2018 appearance at CPAC and saying that he would have been able to repeal Obamacare "except for one senator who came in to the room at 3 o'clock in the morning and went like that," as he made a thumbs-down gesture in imitation of McCain's vote.
Whether and how the McCain family chooses to take Trump's message of sympathy is up to them. He is surely not the only one sending the McCains his condolences.