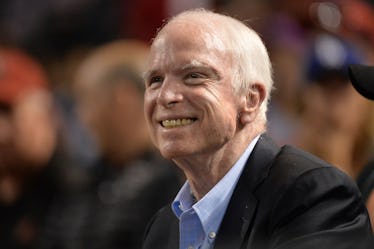 John McCain Has Died Of Brain Cancer At Age 81
Jennifer Stewart/Getty Images Sport/Getty Images
On Saturday, Aug. 25, Arizona Senator John McCain died of brain cancer. His death comes a little more than a year after he announced his brain cancer diagnosis in July 2017. The senator was diagnosed with glioblastoma, an aggressive form of brain cancer. He was 81.
In a statement, the senator's office announced that he had died shortly before 4:30 p.m. that Saturday. "With the Senator when he passed were his wife Cindy and their family," the statement read in part, per NBC News. "At his death, he had served the United States of America faithfully for sixty years." McCain's death comes shortly after the senator's family announced that he had discontinued treatment on Aug. 24.
The respected congressman, who was born in the Panama Canal Zone while his father was serving on a military base there in 1936, had a notable life. McCain was a Vietnam War veteran who was taken as a prisoner of war for five and a half years after his Skyhawk dive bomber was shot down over Hanoi. He was freed in March 1973 following peace agreements between the U.S. and North Vietnamese. He was awarded a Silver Star Medal, Navy Commendation Medal, Legion of Merit, Distinguished Flying Cross, and a Bronze Star Medal for his service. Following his return to the U.S., McCain served as a liaison to the Senate for the Navy.
This service would lead McCain to his own seat in Congress. He was initially elected to the House of Representatives, representing Arizona, in 1982. He was then elected as the Republican senator for Arizona in 1986. This was a role that McCain went on to serve for over three decades, which included being the Republican Party's presidential nominee in 2008, facing off against Barack Obama (his run is largely remembered by the national introduction of Sarah Palin, who was his running mate).
McCain leaves behind an extensive family. He married his first wife, Carol, in 1965. She had two sons, Doug and Andy, from a previous marriage, and John adopted them. They also had a daughter, Sidney. The couple divorced in 1980. That same year, McCain married Cindy. John and Cindy McCain had three children — Meghan, Jack, and Jimmy — and adopted a daughter, Bridget, from Bangladesh in 1991. His mother, Roberta McCain, celebrated her 106th birthday in February 2018. The family was prominently featured throughout the 2008 election, and McCain's daughter, Meghan, has a thriving public career as an author and TV personality, including as a co-host of The View.
McCain took on a high-profile national role as Donald Trump ran for president and took up the office. The senator criticized Trump in the early days of his campaign, leading Trump to make his infamous July 2015 remark that McCain is "not a war hero" and that "I like people who weren't captured." McCain kept the pressure on Trump, even as he entered the White House. This led to a New York magazine cover early in 2017 declaring "McCain vs. Trump." Despite this label, many noted that he continued to vote along with his party, in effect supporting the Republican president.
But McCain had one remarkable vote against his party — and thus against President Trump's mission. In July 2017, McCain was a major player in the Republicans' fight to repeal and replace the Affordable Care Act (ACA, aka Obamacare). On July 19 2017, McCain announced his cancer diagnosis. Then, on July 25 2017, he voted to open debate on health care reform. Many thought this was an indication that he supported the GOP's plan to repeal and replace Obamacare. But in a dramatic turn of events, in a late-night vote on July 28, 2017, McCain voted against his party's health care bill. His vote, along with no's from Republican Senators Lisa Murkowski and Susan Collins, were enough to shut down the bill's chances of succeeding. It was one of the most dramatic moments in politics in 2017.
McCain left Washington D.C. on Dec. 17, 2017 to recover from side effects of chemotherapy, per CNN. Because of this, he missed the vote on the Republican's tax bill, which eventually passed.
"He is the toughest person I know," Meghan McCain wrote in July 2017 following her father's brain cancer diagnosis. "The cruelest enemy could not break him. The aggressions of political life could not bend him. So he is meeting this challenge as he has every other. Cancer may afflict him in many ways: but it will not make him surrender. Nothing ever has."