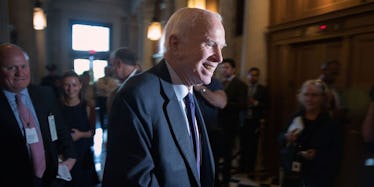 You Have To See The Epic Moment John McCain Voted No On GOP's Health Care Plan
Chip Somodevilla / Getty Images
It was a tense moment at the Capitol Friday morning when, around 1:30 a.m. ET, Senator John McCain voted down the latest healthcare bill. His vote was a shocking end to an all-night "Vote-a-Rama" in Washington D.C., the latest effort by the GOP to pass a version of a health care bill that would repeal and replace the Affordable Care Act (ACA, aka Obamacare).
McCain's vote clinched the loss, at 49-51, and the moment he voted "no" is priceless:
His vote was particularly surprising given that, on Tuesday, McCain voted to move forward with debates for repealing and replacing Obamacare. McCain's vote to open the debate drew sharp criticism from people who expected his perspective on health care might have softened after he'd just been diagnosed with brain cancer.
On Friday morning, McCain joined senators Lisa Murkowski and Susan Collins in breaking with their party to vote down the GOP's latest version of the bill, called the "Health Care Freedom Act," which was presented by Senate Majority Leader Mitch McConnell on Thursday night just hours before the vote.
The Health Care Freedom Act was the third healthcare bill this week to fail in the Senate, preceded by the Better Care Reconciliation Act (BCRA) which would have repealed and replaced the ACA, and the Obamacare Repeal and Reconciliation Act, which would have partially repealed it.
McCain's "no" wasn't a discreet nay written on a slip of paper. It was something you'd expect out of an 11th-hour season finale for a political drama (or VEEP). In a dramatic flourish, he walked up after his name was called, put his hand up, then gave a thumbs down with an audible "no," much to the dismay of McConnell.
People were all over McCain's tables-turning vote on Twitter, some praising his morals, while others lauded his epic performance.
There were gasps throughout the floor as senators from all parties realized McCain had just allowed his fellow Republicans' bill to die.
President Donald Trump wasn't happy, either, and took to twitter to vent about it.
Friday's vote certainly isn't the end of the road for healthcare battles in Congress. The House months ago passed its version of the Obamacare repeal-and-replace bill, the American Health Care Act, but the future of the Senate side of the health care debacle looks uncertain at best.