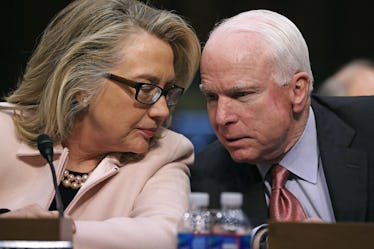 Hillary Clinton Shared A Thoughtful Message Following John McCain's Death
Mark Wilson/Getty Images News/Getty Images
Hillary Clinton is remembering John McCain, hours after the news broke that the longtime Arizona senator had passed away on Saturday, Aug. 25 after a year-long battle with brain cancer. Hillary Clinton's Tweet about John McCain's death called him "a trusted colleague," and it's further proof that the "maverick" will be missed on both sides of the political aisle.
On Saturday, the office of the two-time Republican presidential nominee confirmed that McCain had died at 81, just one day after ceasing treatment for glioblastoma, an aggressive form of brain cancer, which he was diagnosed with in July 2017. Since the announcement, leaders and politicians around the world have taken to social media to express their condolences and reflect on their time working alongside the Vietnam War veteran. President Donald Trump, First Lady Melania Trump, President Barack Obama, Vice President Joe Biden, Canadian Prime Minister Justin Trudeau, and British Prime Minister Theresa May are among the famous figures that have gone online to pay their tributes to the longtime politician.
One message that really stood out to me was from former presidential candidate Hillary Clinton, who was notably both a friend and political opponent. While the pair were on opposite sides of the political spectrum in the senate, the two senators both shared an unlikely friendship and respect for each other, and it's reflected in the heartfelt tributes that she penned to her "trusted colleague" after his death.
She wrote on Twitter:
[Senator John McCain] lived a life of service to his country, from his heroism in the Navy to 35 years in Congress. He was a tough politician, a trusted colleague, and there will simply never be another like him. My thoughts and prayers are with Cindy and his entire family.
McCain, who was known for a more moderate brand of conservatism, had broken with his party a few times for more bipartisan issues. Notably, McCain voted against a "skinny repeal" of the Affordable Care Act in July 2017, and he also gave a "no" vote on Graham-Cassidy proposal to repeal the ACA in September 2017, per CNN. Clinton reflected on this quality in an official statement that she released on Saturday alongside former President Bill Clinton, according to The Hill.
"[McCain] was a skilled, tough politician, as well as a trusted colleague alongside whom Hillary was honored to serve in the Senate," the Clintons' statement read. "He frequently put partisanship aside to do what he thought was best for the country, and was never afraid to break the mold if it was the right thing to do."
The one-time presidential candidate, who famously challenged McCain to a vodka drinking contest back in 2004, also reflected on the senator's years of service in the military. McCain spent five years as a prisoner of war during the Vietnam War, during which he was constantly tortured and subjected to solitary confinement.
"Senator John McCain believed that every citizen has a responsibility to make something of the freedoms given by our Constitution, and from his heroic service in the Navy to his 35 years in Congress, he lived by his creed every day," the statement added.
McCain was a rare figure at a time when politics are divided across party lines now more than ever, a quality that Clinton opened up on during an Sunday, Aug. 26 interview on Meet The Press. "I think that example that he set of working across the aisle, but more than that working to bring people together around the world, is one we should remember," she told host Chuck Todd.
She summed up her esteem for her late colleague in one sentence: "He really understood in the marrow of his bones what it meant to be an American," Clinton concluded. Well said.