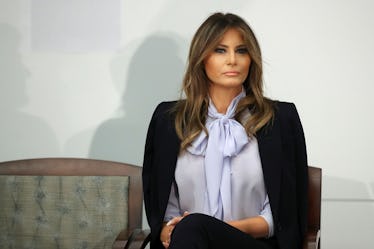 Melania Trump Shared A Heartfelt Message Following Senator John McCain's Death
Chip Somodevilla/Getty Images News/Getty Images
Hours after the world learned Senator John McCain passed away after a year-long fight with an aggressive form of brain cancer, the White House is expressing their condolences. Shortly after President Donald Trump shared a Tweet sharing "our hearts and prayers," Melania Trump's Tweet about John McCain's death thanking him for his service to the country was posted, and it's heartfelt.
On Saturday, Aug. 25, the office of the Arizona senator announced that he had died at 4:30 p.m. that afternoon. This was just one day after McCain revealed that he had stopped taking treatment for glioblastoma, an aggressive form of brain cancer, which he was diagnosed with in July 2017. President Trump, who frequently clashed with the Republican politician during the course of his presidency, quickly took to Twitter to express his sympathies for the McCain family. "My deepest sympathies and respect go out to the family of Senator John McCain," he wrote. "Our hearts and prayers are with you!"
Moments later, First Lady Melania Trump penned her own heartfelt message that included a reference to McCain's "service to the nation."
"Our thoughts, prayers and deepest sympathy to the McCain Family," she wrote on the social media platform. "Thank you Senator McCain for your service to the nation."
It's significant that the First Lady chose to posthumously honor the senator's army record, especially considering that President Trump infamously claimed that he didn't see the "maverick" senator — who was a prisoner of war in Vietnam for five and a half years — as a "war hero" while on the trail for his presidential campaign in July 2015.
According to The New York Times, Trump criticized the former POW's wartime record during a campaign rally in Iowa. "He's not a war hero," Trump said of the senator, who spent five and a half years being tortured and two years of solitary confinement as a Vietnam War POW. "He's a war hero because he was captured," Trump continued. "I like people that weren't captured."
The first lady's statement seemingly paid respects to both McCain's time as a naval officer and the senator's 60 years of civil service to the United States in Congress.
The president's bitter feud with his fellow Republican extended beyond mere campaign jabs. President Trump unsurprisingly took offense to the fact that the senator voted against the repeal of the Affordable Care Act in July 2017, per CNN. They were frequently at odds during the year and a half that Trump has been in the White House. Plus, who can forget that time that McCain played Trump's own game and shaded him with a subtweet telling him that "you can thank Putin" after POTUS claimed that Congress was to blame for the country's poor relationship with Russia?
Needless to say, they were not the biggest fans of each other, and Trump's statement notably focused on the senator's family. Other tributes, like President Barack Obama's and remembrances from high-ranking U.S. military and naval officers, lauded McCain's life of service.
The McCain family has yet to publicly respond to President Trump and Melania Trump's sympathies, but Meghan McCain took to Twitter to pen a heartfelt tribute to her father.
"He taught me how to live," she wrote in the emotional message. "His love and his care, ever present, always unfailing, took me from a girl to a woman — and he showed me what it is to be a man."