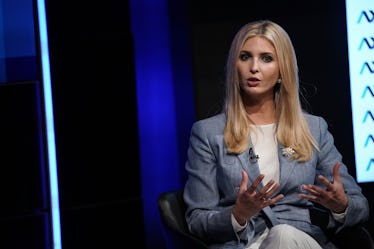 Ivanka Trump's Statement On John McCain's Death Is Pretty Different From Her Dad's
Alex Wong/Getty Images News/Getty Images
In a statement on Monday, Aug. 27, the president's daughter delivered a touching tribute to honor the late Senator John McCain. The longtime Republican senator from Arizona and Vietnam war hero passed away after battling brain cancer on Saturday, Aug. 25. And President Donald Trump could take a page from Ivanka Trump's statement on John McCain's death.
"I want to extend my deepest sympathies to the family of Sen. John McCain, an American patriot who served our country with distinction for more than six decades," said Trump in a statement at a meeting of the Organization of American States in Washington, D.C. "The nation is united in its grief, and the world mourns the loss of a true hero and a great statesman."
The younger Trump's statement Monday followed an initial post she made about the senator's death on Saturday via Twitter. "Honoring the memory and legacy of Senator John McCain, an American patriot, who served our great nation with distinction," she tweeted on Aug. 25. "My prayers are with Senator McCain's family and loved ones as our nation mourns his passing."
The senator, who was 81, was a decorated war hero and prisoner of war before entering U.S. politics in the 1980s, joining the House of Representatives and later the Senate representing the state of Arizona. It remains unclear who might take McCain's place in the Senate, but the news of his death has prompted a massive national and international response.
While the president himself also shared his condolences after the news broke of McCain's passing, the elder Trump did not immediately make a formal statement on the matter. He did, however, reportedly reject the plan to release a statement by his staff praising the senator, per The Washington Post. Statements were released, instead, by other top officials. It was seen as the result of a years-long feud between the president and the senator.
Ivanka Trump's statement also comes amid blowback for her Sunday tweet following the shooting in Jacksonville, Florida, where two were killed and 11 were injured when a gunman opened fire at a video game tournament.
But while the first daughter's statement on Jacksonville wasn't universally well received, at least she issued one — something her father again under fire for thus far failing to do.
The president on Monday, Aug. 27, issued a statement about McCain's passing.
"Despite our differences on policy and politics," the statement reads, "I respect Senator John McCain's service to our country, and in his honor, have signed a proclamation to fly the flag of the United States at half-staff until the day of his interment." That proclamation, released on Monday, issues instructions that will apply to various governmental facilities both nationally and abroad.
In the statement, Trump said he will not attend the services himself, but has instructed Vice President Mike Pence to deliver an address at a ceremony on Friday and other senior cabinet members to attend the events in his place. McCain will be buried in a private ceremony at the Naval Academy Cemetery on Sunday, Sept. 2.