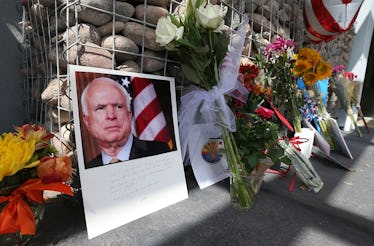 Here's Why John McCain's Replacement For Senate Is Such A Big Deal
Ralph Freso/Getty Images News/Getty Images
The White House flag is already back at full mast and it hasn't even been two full days since John McCain passed away on Saturday, Aug. 25. Lowered flag or not, the country continues to mourn the death of the war hero and Republican senator from Arizona. But already, the conversation is already turning to who will fill John McCain's Senate seat.
McCain passed away on Saturday at 81 after battling brain cancer. The revered Vietnam war veteran and three-plus-decade senator was an unmistakable fixture in American politics for years, and his passing leaves a void on Capitol Hill in more ways than one. Arizona Gov. Doug Ducey is the man tasked with filling it, a job easier said than done. There is mounting pressure from all sides for Ducey to choose a replacement who does justice to McCain's legacy, and one who will be a reliable vote for major GOP legislation in the coming years. Given that McCain himself didn't always vote along party lines, finding someone who could do both is an next-to-impossible task. So the question becomes: Will Ducey opt for a McCain faithful or a GOP faithful? The governor is under added pressure in an election year in which the Republican party clings to a narrow majority in Congress.
While the House is at high risk of flipping blue this year, the Senate is in a tricky spot right now, too. The GOP still clings to a slim 51-49 majority, but 35 seats are up for re-election in this fall's midterm elections, with 26 Democrat and 9 Republican seats on the table. A handful of those are regarded as potentially flippable seats that Democrats could take back, but whether any wins will be enough to tip the Senate blue is a long shot. Though Vice President Mike Pence can serve as a tie-breaker vote within the Senate (and he already had 9 times as of February), the party really felt the burn on legislative votes this year as McCain was unable to attend some major votes.
The other Arizona Senate seat is already being fought over in this fall's midterm elections, with Republican Sheriff Joe Arpaio and Democratic Rep. Krysten Sinema among those duking it out to fill the seat vacated by Republican Sen. Jeff Flake, who is not running for re-election.
An adviser to Ducey told The Arizona Republic that a replacement announcement would not be made until after McCain's burial out of respect. But he's got a tall order to fill: Please the GOP leadership, which clings to narrow lead in Congress, and at the same time, honor the legacy of the late senator.
The timeline for whoever takes over the role is a bit more complicated given that senators serve six-year terms. McCain was re-elected in 2016, so his term doesn't technically end until 2022. Because it's so close to the 2018 midterms — the Arizona primary is on Tuesday — there won't be any names on the ballot this fall. (The cutoff for being in the 2018 midterms would have been May 30.)
Instead, Ducey will select a replacement to serve until the next general election in 2020. The winner of a 2020 special election would then serve out the remainder of McCain's term until 2022, and then the seat's status would revert to business as usual.
By Arizona law, whoever Ducey taps, they'll be in the same party as the late senator — a Republican. But even that leaves a wide open question, as the party is somewhat at odds with itself under the president's leadership. President Donald Trump himself wasn't exactly a big fan of McCain, and McCain broke with party lines numerous times in the last couple years on the Senate, taking a firm stance on GOP health care bills and on immigration, standing against Trump's decision to eliminate the Deferred Action for Childhood Arrivals (DACA) program.
Given that Ducey is a traditional conservative himself, and the fact that he's up against party pressure in deciding the fate of the Senate, it's expected he'll pick someone who will be a reliable vote for GOP priorities.
Beyond that, Ducey is apparently inclined to pick someone who would want to seek the seat in 2020 as well, The New York Times reports, rather than tap a more temporary choice who isn't interested in running in 2020. Some names have already been floated as potential appointees.
According to the Republic, eight possible Republican candidates have been mentioned to fill McCain's vacant seat, four of whom are women. Among them is now-widow Cindy McCain, the wife of the late senator. The rumors of her being considered have been spurring reactions that run the gamut from full-throated support to blatant rejection.
Some view Cindy McCain as a perfect fit for the role who would best honor McCain's legacy, while others see it as an inappropriate choice.
Cindy McCain, as the Times points out, is viewed as a fairly middle-ground centrist, and therefore would be a politically risky choice that might upset some hard-line Arizona conservatives.
The danger — and the pressure Ducey is up against — is that if he picks someone unappealing to Arizona voters, they may retaliate. With Flake's seat in limbo, the GOP is already on edge about the prospect of losing one precious Senate seat to a Democrat. While Arizona easily went for Trump in 2016, Democrat Sinema has been ahead in polls, per a RealClearPolitics average based on polls between June 21 and July 25.
Others point out that another McCain in office would almost certainly anger Trump (and by the transitive property, possibly, his base).
Following a week of ceremonies commemorating McCain, the late senator will be buried at the U.S. Naval Academy Cemetery on Sunday, Sept. 2.