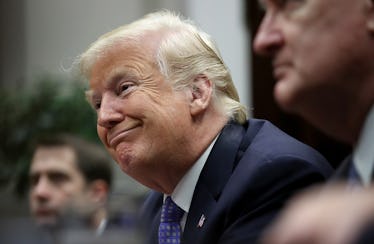 Trump Reportedly Nixed A Statement Praising John McCain, Which Doesn't Look Great
Win McNamee/Getty Images News/Getty Images
On Saturday, Aug. 25, Arizona Senator John McCain died at the age of 81 from brain cancer. Since his passing, politicians ranging from Barack Obama to Hillary Clinton shared heartfelt memories and statements about the GOP trailblazer. However, Donald Trump's response to John McCain's death will reportedly only consist of 240 characters or less.
According to The Washington Post, United States leader Donald Trump reportedly nixed sending out a White House statement in response to the senator's death. The statement would have reportedly praised McCain as a "hero" for his dedicated military service and his years in the U.S. Congress. According to The Post, the statement was fully drafted prior to McCain's death and ready to be approved by Trump, but the man himself decided to opt for less traditional sentiments. Instead, Donald Trump reportedly decided to only send out a two sentence tweet on Aug. 25 instead of an official White House statement. Elite Daily reached out to the White House for comment, but did not immediately hear back.
While many politicians used Twitter to mourn the loss of the Arizona senator, Donald Trump's tweet about John McCain wasn't necessarily thorough. Instead of tweeting about McCain's years of military service or years spent serving in Congress, Trump only addressed the former senator's family by saying "hearts and prayers" are with them.
We all know Donald Trump loves to send out a tweet, but in this case a formal White House statement, which mentioned McCain's decades of service, would have probably been more appropriate.
In July 2017 John McCain was diagnosed with glioblastoma, an aggressive form of brain cancer. The senator had been going through treatments for months, but on Aug. 24 his family announced that McCain would be ceasing treatments. Then, just a day later on Aug. 25, the senator's office released a statement that John McCain had died at 4:30 p.m. ET that Saturday.
"With the Senator when he passed were his wife Cindy and their family," part of the statement read. "At his death, he had served the United States of America faithfully for sixty years."
John McCain was an American quite like no other. While fighting in the Vietnam War, McCain was captured and held as a prisoner of war for five and a half years, during which he was repeatedly tortured. Upon his release in March 1973, McCain was awarded a number of esteem honors including the Silver Star Medal, the Navy Commendation Medal, the Legion of Merit, and more. After the war, McCain turned to Congress in the 1980's and was elected to the House of Representatives in 1982, later serving as the Republican senator for Arizona for three decades.
As an influential member of the Republican party, one might assume that McCain and Trump would be close. However, throughout Trump's presidency McCain openly challenged a number of the president's policies and stances, frequently angering the president. In July 2017, McCain shocked the entire nation when he surprisingly voted against the GOP's "skinny repeal" health care plan, an attempt to replace the Affordable Care Act (ACA), aka Obamacare.
Trump was famously unhappy with McCain's vote, later blaming him for the bill's failure at a February 2018 appearance at CPAC. The president told the crowd that the bill would have passed "except for one senator who came in to the room at 3 o'clock in the morning and went like that," gesturing with a "thumbs-down" in imitation of McCain.
McCain also criticized a number of Trump's administration picks, particularly CIA Director Gina Haspel, who he denounced for her role in the CIA's interrogation practices. Haspel has been under public criticism for her involvement in an interrogation program at a CIA "black site prison" in Thailand in 2002, which was known to use torture methods such as waterboarding and sleep deprivation on detainees, per a 2014 report by the Senate Intelligence Committee. Though the level of Haspel's involvement in any interrogations is unclear, Haspel was present in a leadership role at the prison for approximately two months in late 2002, per the New York Times. Haspel told the Senate Intelligence Committee in May that she would "never ever take CIA back to an interrogation program" and that the organization followed the law at all times. She said,
CIA follows the law, we followed the law then, we follow the law today. I support the law, I wouldn't support a change in the law. But I would not put CIA officers at risk to undertake risky controversial activity again.
Following Haspel's nomination, McCain took to Twitter in March to urge the Senate to thoroughly investigate her record in order to make sure no torture interrogation tactics will happen again.
Donald Trump's tweet in honor of John McCain might have been brief, but at least we all know about the dedicated service the former senator did for the United States. Rest easy, Senator McCain.