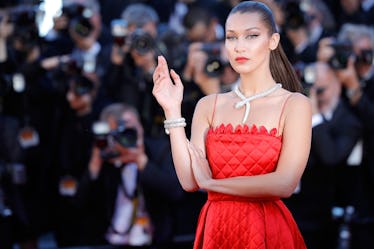 Are Bella Hadid & Selena Gomez Friends? Here's What We Know About The Weeknd's Exes
Andreas Rentz/Getty Images Entertainment/Getty Images
Ladies, let's get one thing straight: It's understandable to argue with your fellow woman over certain, important things - like figuring who is going to drink the last few drops from the wine bottle - but it is never OK to fight over a man. Of course, when romantic feelings are thrown in the mix, that rule can be pretty hard to follow. And just because you're famous doesn't mean that you won't fall victim to that feeling, either. Case in point: Bella Hadid and Selena Gomez. Hadid unfollowed Gomez back in January after photos surfaced of Gomez and Hadid's ex, The Weeknd, getting hot and heavy. But something sort of miraculous happened on Instagram that have fans wondering, are Bella Hadid and Selena Gomez friends?
Bella Hadid and her fans were appalled when photos of Selena and The Weeknd kissing behind a dumpster (so romantic, amiright?) popped up all over the place, so when Hadid unfollowed the pop star, it sent a shock wave out, signaling that baby, now they've got bad blood. And, like every ex-boyfriend who has an ex-girlfriend who unfollows his current girlfriend (stay with me here, people), The Weeknd went ahead and unfollowed Hadid on Instagram, because obviously there wasn't enough drama in this narration already.
But we can all certainly feel for Hadid, since most of us have been that person on the receiving end of a breakup. In an interview with Teen Vogue, Hadid opened up about her breakup with The Weeknd, and talked about how much it affected her:
It was my first breakup ... and so public. As an outsider, you might think I handled it so well, but it's always in your heart, and you always feel it very heavily ... But I'll always respect him, and I'll always love him. Sometimes you want to be sad about it or handle it differently, but at the end of the day, you never want to burn a bridge that you've fought so hard to build.
Damn, girl! Taking the high road looks fierce on you. Slay, Bella. Slay.
But as we flash forward to the present, we know that Gomez and The Weeknd are no longer a thing, because Jelena is back, b*tches! Unless you've been living under a rock, Justin Bieber and Selena Gomez's rekindled romance has been sort of the talk of the town, and many are like, crazy happy about it.
So now that The Weeknd is dating neither Bella Hadid nor Selena Gomez... what does that mean for the two women? Do they simply drop their feud since Selena dropped The Weeknd? Well, according to some social media sleuthing, it looks like that may be the case.
A recent photo on IMGmodels Instagram account shows a fierce-looking Selena Gomez rocking a new blonde hairdo (which I'm totally feeling, BTW) at the American Music Awards:
But upon further inspection, you'll see that Bella Hadid has gone ahead and liked the photo. Either this girl is literally a saint, or she and Selena have had some sort of truce, because damn, here is another incredible display of being the bigger person. She's gorgeous, she's down-to-earth and she shows respect to her ex-boyfriend's (now ex-) girlfriend? Girl is on FIRE.
So, does that mean that Bella and Selena are now on each other's speed dial? That, we don't know for sure. But I think that these two can get back to a time where they were rolling with the same squad, just like old times.
Because if there's hope for a Jelena reunion, certainly there's hope for a Belena reconciliation, right?