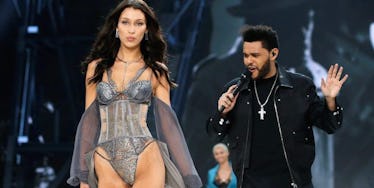 Selena Gomez And The Weeknd Threw The Ultimate Shade At Bella Hadid
REUTERS
So much for being friends with your exes! It looks like The Weeknd may have just cut the last of his ties with ex-girlfriend Bella Hadid, and his new girl, Selena Gomez, got in on the shadiness.
Some eagle-eyed Instagrammers noticed The Weeknd hit Bella Hadid with the ultimate shade in our social media world on Thursday morning, by unfollowing her!
Of course, the next person to investigate is his new girlfriend, Selena Gomez, and it turns out she no longer follows Bella on Instagram either.
Out of feed, out of mind, I guess?
Bella Hadid actually fired the first shot, though, when she unfollowed Selena Gomez just days after the first photos of Selena and The Weeknd making out were posted online.
But as of right now, Bella does still follow The Weeknd on Instagram -- the only remaining social media thread in the whole triangle.
In case you were curious, both Selena and The Weeknd still follow Bella's famous sister, Gigi Hadid, and Gigi follows both of them back.
Bella and The Weeknd were together for a year and a half before ending things last November (that's basically an eternity in young Hollywood).
The reason they gave for their split was the cookie-cutter response every celebrity couple who doesn't want to talk about a breakup gives: conflicting schedules.
Anyway, it was pretty clear by her Instagram activity Bella was not happy to see The Weeknd moving on so quickly to another high-profile girlfriend.
Just two months after his breakup with Bella, photos surfaced of The Weeknd making out with Selena Gomez. Though the two have yet to officially confirm their relationship, they've been pretty much inseparable all of 2017, including going on a romantic Italian getaway together.
I guess the new couple is just trying to avoid any ex factors? Then again... both Selena and The Weeknd are still following Selena's famous ex Justin Bieber on Instagram, and he follows them both back.
I guess he must be causing them less trouble.
Citations: Selena Gomez and The Weeknd Just Unfollowed Bella Hadid on Instagram (ELLE)