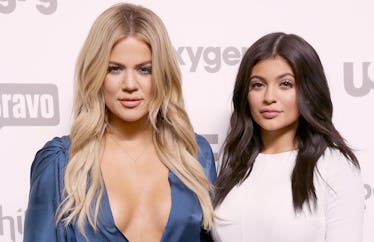 This Theory About Kylie Jenner & Khloé Kardashian's Pregnancy Announcements Is Wild – UPDATE
Y'all know how much I love my celebrity conspiracy theories. For the last few months, the theories dominating the internet have been about Kylie Jenner and Khloé Kardashian's reported pregnancies. Personally, I find it really hard to believe they aren't pregnant. No one lets a rumor mill keep running for this long when they know the rumors are false, so in my mind, they must be pregnant and are just waiting for the perfect time to announce. This theory about when Kylie Kenner and Khloé K will reveal their pregnancies is pretty rock solid, and we're going to break down every little detail for you.
UPDATE 2: On Sunday, Feb. 4, Kylie Jenner confirmed her pregnancy in an Instagram post. She welcomed a daughter on Thursday, Feb. 1.
UPDATE 1: On Dec. 20, Khloe Kardashian confirmed that she is expecting a baby with Tristan Thompson in an Instagram post.
EARLIER: The Kardashians release an extravagant Christmas card just about every year, and this year, they've announced they're doing 25 days of photos to reveal it. Starting Dec. 1, members of the family began posting pictures from their Christmas card photoshoot that are all pieces of a puzzle that, when finished on Christmas day, will show the complete Kardashian Christmas card. Fans believe there's a reason the family is making the reveal of the full card such a long, drawn-out process...
They think Kylie Jenner and Khloé Kardashian's reported pregnancies will be revealed in the final photos of the 2017 Kardashian Christmas Card.
It makes total sense. Think about it: What do people include in their yearly Christmas cards to friends and loved ones? Updates on what the family was up to in the last year, and what they're expecting in the new year. In the Kardashian's case, it's babies. Since the family is dragging out the reveal of the card over nearly the entire month of December, it's obviously intended to build up momentum and interest leading up to the big reveal of what the entire card looks like. And why make such a plan and dedicate an entire month to executing it if the end result isn't going to be massive? Don't even try to tell me the Kardashians think their Christmas card alone is big enough to warrant this kind of reveal. No, they know what they're doing. They know how to break the internet. It's not the card itself that they're preparing us for, it's what's featured in the card. Call me the damn FBI because I think I've cracked this Kardashian Kode.
Fans think Kris Jenner might've accidentally confirmed Kylie and Khloé's reported pregnancies on her Instagram when she posted a photo of nine pairs of PJs, saying there was one pair for "every one" of her grandchildren. Since she only has six grandchildren currently and there's only one confirmed on the way (Kim and Kanye's), fans believe those other two pairs are intended for Khloé and Kylie's reported babies.
But guys... what if this was a hint within a hint?!
Here's my theory: Kris Jenner dropped this Burt's Bees hint on purpose to make us think she's confirming the pregnancies, but she also used the Christmas-themed post to slide in an even more subtle hint that the pregnancy reveals will be in the Christmas card. Think about it: She posts a photo of nine sets of PJs intended for "every one" of her grandchildren, the PJs are Christmas-themed, and her grandchildren have been the main subjects in photos from the card that have been posted so far. This is Kris Jenner telling us that the Christmas card is going to star all of her grandchildren, including the ones that are on the way.
I know, I know. I'm a damn genius. You can give me my Pulitzer later. For now, let's look through all of the photos the family has posted from their holiday card so far:
Day one: Baby Saint combing through packages.
Day two: North West looking up at her mom and what seems to be Kourtney Kardashian.
Day three: Reign Disick.
Day four: Kim Kardashian West and North West.
My official prediction is Kris Jenner is going to post photos of all her children with their children leading up to Christmas, and then the last days before Christmas will be photos of pregnant Kylie Jenner and pregnant Khloé Kardashian. On Christmas day, we'll see the card in its entirety. One thing's for sure: It's going to be one hell of a Christmas card.