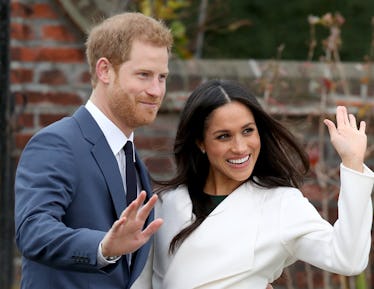 This Theory About Prince Harry & Meghan Markle's Engagement Wins All The Awards
Chris Jackson/Getty Images Entertainment/Getty Images
In case you live under a massive rock and have no idea what's going on in the world, first of all, I'm impressed. How do you do it? Second of all, Prince Harry and Meghan Markle are engaged. Everything else in the world is pretty much the same. The climate's still changing at an alarming rate, Trump still sucks, and Twitter is still stressful as hell... except for when it's not and it's making excellent conspiracy theories about this royal engagement. This Twitter user's theory about Prince Harry and Meghan Markle's engagement is so hilarious, it's almost believable. I almost want it to be true. The theory (most definitely tweeted as a joke and not an actual conspiracy theory) was tweeted on Monday, Nov. 27 after the news of the couple's engagement was announced by Prince Charles, Harry's father. It basically says Prince Harry is marrying Meghan Markle as part of a plan to reclaim the colonies. It is everything. The tweet reads,
Prince Harry's kids will be Americans. What if one grows up to be president and is in line for the throne at the same time? Brits are playing long-ball here, but it's a smart move. They want America back and this is how they'll do it.
Honestly, would this be the worst thing ever? Anything is a better option than having Trump for the next seven years, so Harry and Meghan, please take us now. We're ready.
While this theory will probably never happen IRL, it is true that any child Harry and Meghan have will be born with U.S. citizenship, so they could run for president one day, if they so choose. But considering the fact that Meghan Markle has decided to retire from acting in order to focus on being a royal and everything (and the fact that their father will be a literal prince), their kiddos will probably grow up in England all posh and whatnot. Sorry, Queen Elizabeth! But it looks like Prince Harry's plan to reclaim the colonies might not happen.
Clarence House, Prince Charles' official residence in London, released a statement on Monday, Nov. 27 announcing Prince Harry and Meghan's engagement.
The statement read,
His Royal Highness The Prince of Wales is delighted to announce the engagement of Prince Harry to Ms. Meghan Markle. The wedding will take place in Spring 2018. Further details about the wedding day will be announced in due course. His Royal Highness and Ms. Markle became engaged in London earlier this month. Prince Harry has informed Her Majesty The Queen and other close members of his family. Prince Harry has also sought and received the blessing of Ms. Markle's parents. The couple will live in Nottingham Cottage at Kensington Palace.
The couple then stepped out on the grounds of Kensington Palace for a little engagement photo shoot, looking in love as hell.
Seriously, just look at these two lovebirds!!!
Prince Harry also said he thinks Meghan Markle and Princess Diana would be "thick as thieves." In an interview with BBC following the engagement news, Prince Harry said,
Oh they'd be thick as thieves, without question. I think she would be over the moon, jumping up and down, you know, so excited for me, but then, as I said, would have probably been best—best friends with Meghan. So no, it's, you know, it is days like, days like today when, when I really miss having her around and miss being able to share the happy news.
He capped it off by saying, "But you know, with the ring and with everything else that's going on I'm sure she's..." Meghan added, "She's with us." I'M NOT CRYING, YOU'RE CRYING. SHUT UP. And now, allow me to end things with my favorite GIF of all time: