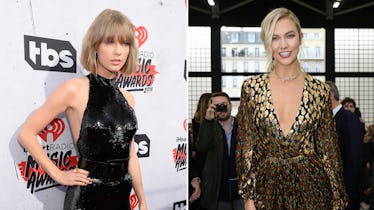 Karlie Kloss Liked Only One Photo On Taylor Swift's Insta & Fans Have A Theory For Why
Frazer Harrison/Vittorio Zunino Celotto/Getty Images Entertainment/Getty Images
Isn't it funny how sometimes, it's hard to tell when two people are BFF's or frenemies? Take Taylor Swift and Karlie Kloss. On the one hand, certain things make you believe they're still friends with each other, and on the other, you're almost positive that there was a falling out at some point. Who can we trust? What can we believe? (The answer is always no one. Trust no one.) Well, there's a little detail on social media that might help solve this case, and this theory about Karlie Kloss and Taylor Swift's friendship comes to us from a little place called Instagram.
Taylor Swift had herself a wild night on April 10, sharing a handful of photos on her Instagram account that went behind-the-scenes during her Reputation tour rehearsals. (Not going to lie, the fact that she had three rows of three photos neatly lined on her Instagram feed really pleased the control freak in me.)
The very first photo Swift posted Tuesday night was her and her backup dancers chilling all together on a staircase, with a caption that read,
Say hi to the reputation Stadium Tour dancers!! Been spending my days rehearsing with these overwhelmingly talented people. 28 DAYS TIL GLENDALE AZ
After that first initial photo, the eight others are close-up shots of individuals practicing rehearsal, one of Swift herself, and one where Swift is crowd-surfing with the support of her back-up dancers.
Many of her friends (like Blake Lively, Lily Aldridge, and Gigi Hadid) liked multiple shots from Swift's recent Insta-feed, because what better way to show your love and support than by double-tapping a handful of their images?
But there was one person who only liked a single photo from the recent uploads to Swift's Insta: Karlie Kloss. The only image she showed love for was the very first photo of Swift on the staircase with her dance crew.
But why just show love for that one image? Fans are confused, so this can only mean one of two things, people.
Karlie Kloss is simply showing support for her friend.
Look, Kloss might not have went on a like spree, but she still did like the one photo of Swift. So this might be proof that all of the questioning as to whether or not Taylor Swift and Karlie Kloss are still friends is mere speculation, and that they are good terms.
They do have a pretty long history of friendship, and, even though they don't always show their relationship publicly, perhaps Kloss liking Swift's post on Instagram was to simply tell the world that yep, they're still good.
But, just as the story can spin one way, it can always spin the complete opposite direction, too. Which leads me to my next theory.
Karlie Kloss is making a subtle statement that she's no longer on the best of terms with Taylor Swift.
Perhaps this was a more calculated move than what actually meets the eye. Think about it: Giving your supposed BFF one measly like when they post a stream of photos might really be your way of saying, "Hey, I respect you, but not enough to go on a liking spree."
It's just enough to show the world that you're still somewhat in a person's life... but not enough that the world thinks that you two text each other every day and tag each other in hilarious memes. So, this small act on Karlie's behalf might show everyone that she's not really close with Taylor Swift anymore. You know what I'm sayin'?
Karlie hears me loud and clear.
So, whether this was pre-planned on Karlie's behalf, or there is a justified reason to her liking that sole photo, I think we can all agree that the world would be a better place if Kaylor came back into our lives soon.
We miss you, you guys.