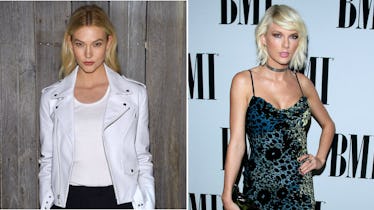 This Tiny Detail Could Mean Taylor Swift & Karlie Kloss Aren't As Close As You Think
Jamie McCarthy/Mark Davis/Getty Images Entertainment/Getty Images
One minute, Taylor Swift and Karlie Kloss are inseparable, and the next, we don't even know if they're on speaking terms. What gives? Will we ever know if the two are still BFFs, or will we forever just keep guessing as to whether or not their friendship has faded? While we may not ever get full confirmation from either of the two, there was a small detail in a recent interview with Kloss that proves Taylor may no longer a part of her squad. So, who are Karlie Kloss' best friends? Turns out, there's a pretty long list, but our girl Tay-Tay might not be on it.
In Kloss' interview with Porter, which is available April 6, she talked about how she's got a pretty excellent group of ladies by her side, but said that not all of her friendships have stood the test of time.
"I've built really amazing friendships — some that last, some that don't," she told the magazine.
OK, but that doesn't mean she's pointing her finger directly at Taylor, right?
Welllll... here's where things get a bit dicey. She gave a shout out to all of the members of her crew, but left Swift out of the equation completely. She said:
A couple have become some of the most important relationships in my life, in particular, those I've been in the trenches with, such as Jourdan Dunn, Joan Smalls, Toni Garrn, and Lily Aldridge. We started as girls and we've grown up together, and I know if I need anything, I can call them up and they will be there for me, just like my friends from kindergarten.
Um, I'm sorry. Taylor isn't someone Kloss can call in a time of need? I mean, just last month, Kloss told the New York Times that Swift was a close friend of hers. In regard to rumors going around the internet that the pair are no longer friends, she said, "Don't believe everything you read." But then, Karlie, why did you not mention T-Swift in your interview?
I have some thoughts.
Perhaps the two are simply drifting apart, because they are two incredibly high-profile people with very busy lives. Or maybe something went down between the two that has given them — seriously, no pun intended here — bad blood.
According to The Blast, Kloss is reportedly hosting a new show called Movie Night with Karlie Kloss, where our girl Karlie will basically invite some friends over for popcorn and a film. Sounds actually kind of amazing, TBH.
But sources say that Taylor Swift will not appear on Kloss' show, saying that Swift "politely declined due to scheduling issues."
Hm. Could this be the catalyst as to why Karlie left Tay's name off her list of besties?
We don't know for sure, but we do know that this whole thing is shady AF.
This isn't the first time that we question Karlie and Taylor's friendship, either. Back in September of 2017, many fans became worried after not seeing the two friends photographed doing anything together. But a source told E! News not to worry about a damn thing. The source said:
Taylor and Karlie are doing well as friends. They had NO falling out what so ever. They still speak but have been slammed with crazy schedules on both sides. Karlie had many prior commitments — that's why she was not involved in a few of Taylor's music projects like she was last year. They are still good friends though.
Ugh. What's going on? Who can we trust? Who do we believe?
Karlie, Taylor, if you read this, can you do fans a favor? Just snap a photo of the two of you hugging it out. Or screenshot your text messages that joke about boys. Or go out for a drink together. Show us that your friendship is alive.
We're sort of counting on you, but no pressure.