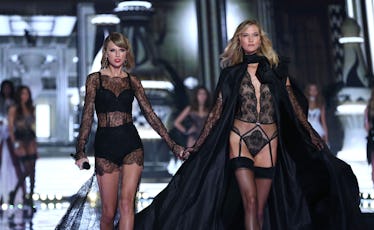 A Tiny Detail On Karlie Kloss' Instagram Could Mean She Has Bad Blood With Taylor Swift
Tim P. Whitby/Getty Images Entertainment/Getty Images
No one's quite sure what the status of Taylor Swift's "girl squad" is. Ever since she took her long break from the public eye and then wiped her social media clean before announcing the release of Reputation, things have been noticeably different from the 1989 era. Specifically, fans have noticed a change in Swift's friendship with Karlie Kloss. Now, fans think they found a clue on Karlie Kloss' Instagram that may show there is some tension between her and Taylor Swift.
The post in question is a video of Kloss playing with a basketball. She captioned the post "Swish swish 🏀❤️ Love Advent '17 thank you @thelovemagazine @kegrand @philpoytner." The "swish swish" line is what has Swift fans up in arms. They believe it's a reference to Katy Perry's "Swish Swish" song/music video, which many believe is Perry's unofficial response to Swift's "Bad Blood." Avid Swift fans think Kloss possibly referencing Swift's song is a betrayal to Swift, as she and Perry have been in a never-ending feud for five years now. But the word "swish" has always been a basketball reference because it's literally a basketball term, so I doubt this is Kloss joining sides in a feud that exhausted the last of its fuel years ago. (Notably, fans think they saw Katy Perry in Miami with Taylor Swift earlier this month to make an appearance in the "End Game" music video. Swift was there filming the video while Perry was there for a stop on her tour. This feud just might be over soon, fam.)
Kloss and Swift haven't been seen hanging out (in public, at least) for a long time now, but that doesn't necessarily mean they hate each other.
In fact, Kloss posted on Instagram to wish Swift a happy birthday on Dec. 13.
She said, "happy happy birthday @taylorswift!" Sure, not the most tear-jerking birthday post, but she clearly doesn't hate the girl if she's posting a birthday Insta for her. Lots of fans believe Swift and Kloss' (they call it "Kaylor") friendship isn't what it used to be.
In the comments on Kloss' basketball Instagram, fans called her out for seemingly shouting out Katy Perry.
Some fans commented "This is why we can't have nice things," which is a reference to one of Swift's songs from Reputation. Based on that comment, it's possible some fans think that particular song is about Kloss.
The "This Is Why We Can't Have Nice Things" lyrics tell the story of why a friendship that went south from Swift's point of view. The lyrics go,
It was so nice throwing big parties. Jumping in the pool from the balcony. Everyone swimming in a champagne sea. And there are no rules when you show up here. Bass beat rattling the chandelier. Feeling so Gatsby for that whole year.
So why'd you have to rain on my parade? I'm shaking my head. I'm locking the gates.
This is why we can't have nice things, darling. Because you break them. I had to take them away. This is why we can't have nice things, honey. Did you think I wouldn't hear all the things you said about me?. This is why we can't have nice things.
It was so nice being friends again. There I was giving you a second chance. But then you stabbed my back while shaking my hand. And therein lies the issue. Friends don't try to trick you. Get you on the phone and mind-twist you. And so I took an ax to a mended fence.
The song's most intense (and telling) line comes in the bridge when Swift sings,
But I'm not the only friend you've lost lately. If only you weren't so shady.
So, whomever this song is about, it looks like it's someone who was in Swift's #girlsquad, was out of it, then was back in. Then, something else happened that caused another rift. But there's more to this than just an ended friendship.
Some Kaylor fans actually ship these two together, meaning they think they were in a secret relationship at one point. There are a bunch of fans who believe "Dress" from Reputation is actually about Kloss. At one point in the song, Swift sings, "Carve your name into my bedpost, 'cause I don't want you like a best friend. Only bought this dress so you could take it off." Steamyyyyyy!
While this song is most likely about Swift's boyfriend of one year, Joe Alwyn, Kaylor shippers are still dreaming of what they once (maybe) were.
So what do you think? Is "Dress" about Karlie Kloss, or is "This Is Why We Can't Have Nice Things" about her? OR... are they both?