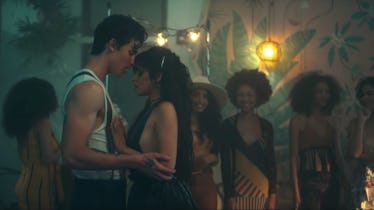 This "Señorita" Couples Costume Is Perfect For Shawn & Camila Fans
YouTube
I know I'm not the only one who's watched the "Señorita" music video more times than I care to admit. I can't help it — it's hot as heck, and the only thing hotter than the sexual tension may just be all of the outfits. If you and your boo are looking to do a Shawn Mendes and Camila Cabello couples costume for Halloween 2019, the "Señorita video" is positively packed with inspiration, and the only question is: Which look are you going to go with?
In the first scene, Cabello is seen wearing a darling pink waitress uniform and Mendes an uninspiring white T-shirt, which — as cute as Cabello looks — might just lead people to believe you're dressed up as Jenna Hunterson from the musical Waitress and... a guy in an uninspiring white T-shirt.
While Mendes keeps it simple, several more outfit changes follow for Cabello — including a black fishnet dress, an oversized white sweater worn over a tank top, a gauzy white A-line dress, a floral tiered chiffon gown, and a white blouse with jean shorts — but my favorite look has to be her little black dress from the club when she and Mendes lock eyes as he's strumming the guitar.