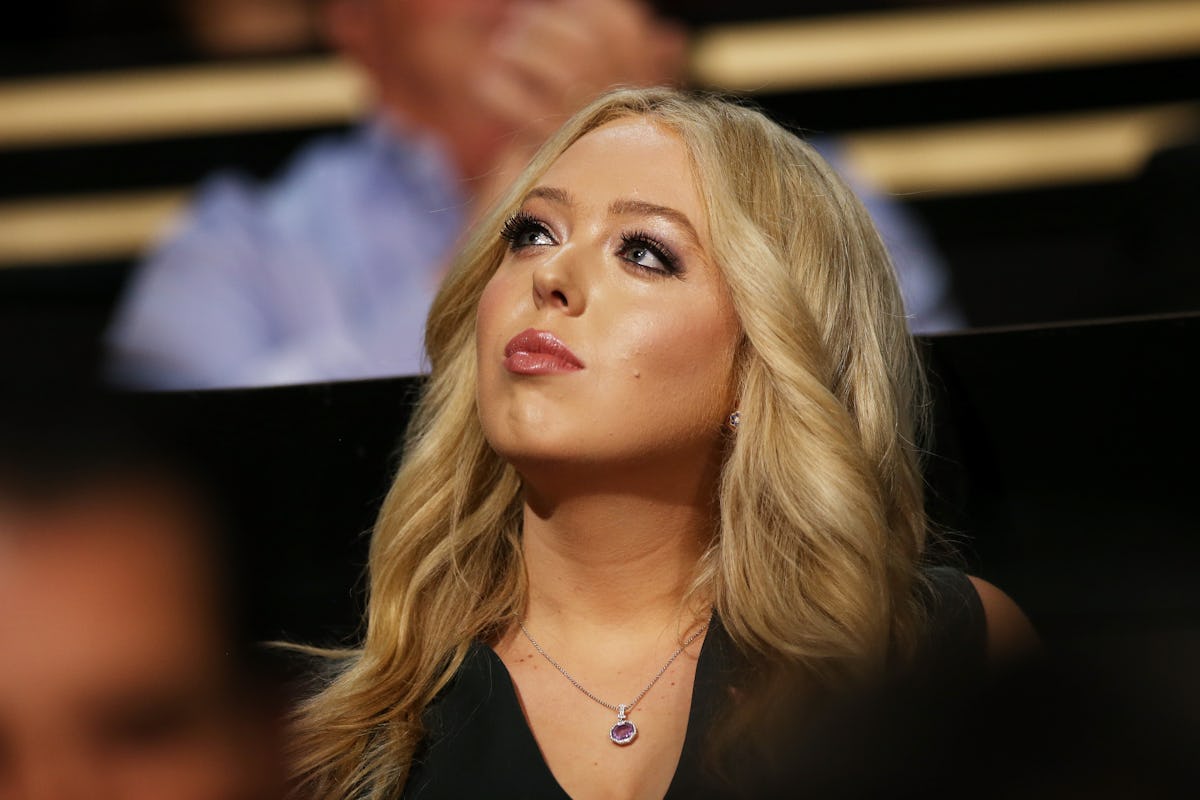 This #TBT Photo Of Tiffany Trump & Santa Claus Is Giving Us Major Nostalgia Vibes
John Moore/Getty Images News/Getty Images
Thursdays in December mean you can expect a lot of holiday-themed throwbacks. Lots of plaid and crying kids on Santas' laps, lots of red and white and green. It's enough to make you want to run down to the mall and sit on Santa's lap right now. Ahhh, nostalgia. And this Instagram #TBT photo of young Tiffany Trump and Santa Claus is definitely making us feel the holiday spirit. Or something like it.
On Dec. 7, Tiffany Trump's mom and second wife to President Donald Trump, Marla Maples, posted a throwback from when Trump was just a li'l nugget on Dec. 7, geotagged at Mar-a-Lago.
The caption reads, "#tbt to a precious moment with Mom (our dearest angel of Christmas), a man called 'Santa' and this littlest bit of Holiday Magic @tiffanytrump who brings the Joy!"
There's a lot going on here, not least of which is Maples's clear and abiding love for both her mother and daughter, who, as she wrote, "brings the joy." It seems, judging from the geo-tag at Mar-a-Lago and Trump's size and chubby little cheeks, that it's likely 1994 or 1995. After all, Trump was born in Oct. 1993, and she's roughly the size of a baby on the cusp of toddlerhood.
And the photo itself screams mid-'90s. The hair, the turtlenecks, the shoulder pads and gaudy gold earrings. The scrunchy-esque headband that baby Trump is rocking. My god, everything just oozes 1995.
I mean:
There's something everlasting about the photo: the awkwardness emanating from the situation. Three adults squeezed into frame, a child looking into the distance, half giggling, half confused. A Santa impersonator that is probably, in all honesty, doing his best. The silliness and joy of preparing for the holidays.
I honestly don't know anyone of a certain age who wouldn't relate to a photo like this. Everything from the clothing down to the we're-having-fun-but-take-the-damn-picture smiles. And that special outfit that your parents dragged out once a year for pictures and prayed you wouldn't make a mess of it before you got to Sears.
And in defense of baby-Trump, she's holding it down pretty well. I don't see any tears or the wrinkling of a brow, which is a lot more than I could say for most kids.
This isn't the first we've seen of Trump during the holidays.
Trump was present for the turkey pardoning on the Tuesday before Thanksgiving, where she made friends with the turkey.
And hung out with her nieces and nephews.
And it looks like Tiffany herself posted a shot with older sister Ivanka to Instagram, celebrating the White House tree lighting ceremony.
Festive!
So far, none of the other Trumps (or Trump-adjacent people) have posted any Christmas #TBTs — yet.
After all, there are still 18 days until Christmas.
Although First Lady Melania has posted quite a few charming photos of the White House Christmas decorations. After the first few pictures seemed to show a ghoulish White House right out of a Grimm's fairytale, we're glad the official FLOTUS Instagram account has set the record straight. After all, these decorations are actually pretty nice.
But I do have a few #TBT ideas for them when they get around to it.
Throwback to when Donald Trump's biggest ambition was to be movie-famous.
Throwback to when the man who is now president made a cameo on Sex and the City.
Throwback to when the Trumps were just real estate developers who somehow finagled their way onto television.
Throwback to this Christmas tweet from President Trump which is actually, uh, kinda decent. Now that's a serious throwback.
Just some ideas, guys. I know you're busy.
Trump, for what it's worth, has yet to comment on her mom's 'Gram. But it's cool, she's probably just busy with finals at Georgetown Law.