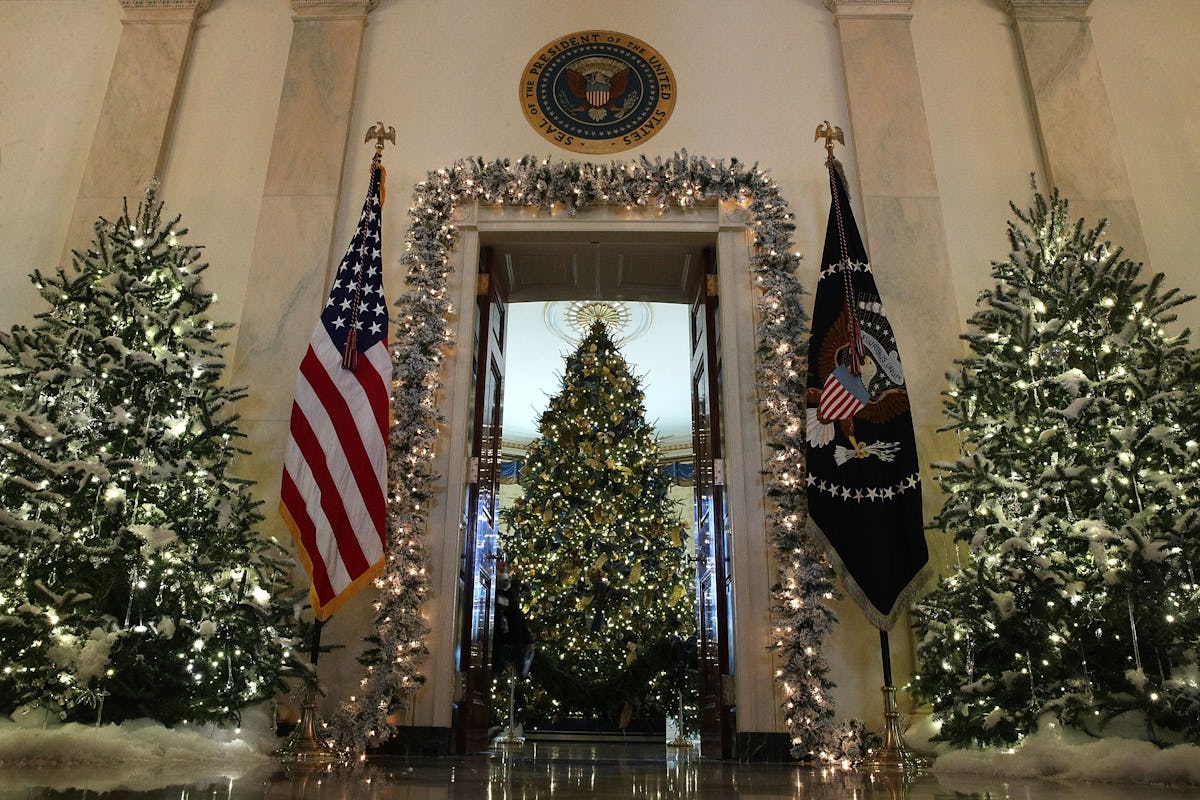 The Trump White House Christmas Decorations Are Actually Pretty Cute, Despite The Memes
Alex Wong/Getty Images News/Getty Images
In case you missed it, there were some seriously creepy photos of the White House Christmas decorations circulating around the internet. I'm talking Tim Burton level creepy. The pictures captured a long hallway filled with shadowy trees and the whole thing looked like a straight up horror movie. Turns out, it was all a bit of an illusion. Photos of the Trump White House Christmas decorations show it's not as scary as the memes, so hopefully all your nightmares will go away. Keep the memes coming, though.
For starters, the whole White House Christmas decorations saga can be traced back to Melania Trump and her crew of 150 volunteers. The group banded together to decorate the White House in preparation for the holidays, setting up Christmas trees, tying ribbons, dusting surfaces with fake snow, and hanging faking, dripping icicles. The whole thing took 1,600 hours to complete (!) according to USA Today.
Unfortunately, some of their hard work was derailed when Stephanie Grisham, the White House Director of Communications, posted a shot of the finished product on Nov. 26 on Twitter. I'm not sure if it was the lighting or what, but the photo looked like the inside of Dracula's lair. It looked like the beginning of most of my nightmares. It looked like Voldemort was definitely hiding somewhere in there, waiting to kill all of us Muggles once and for all. See below:
Yeah, so the decorations don't exactly conjure up the merriest of feelings. Neither does this picture of Trump, gliding through the nightmare, looking equally like a nightmare.
Naturally, this whole thing became an instant meme sensation, and the internet joyfully took turns comparing the decorations to a myriad of horror films. Oh, and also there were many, many choice comparisons to the current horror show happening at the White House right now.
As sad as I am to rain on the glorious meme parade, actual photos of the White House decorations are pretty beautiful. And festive. And will definitely make you feel all the appropriate holiday feelings of cheeriness, delight, and wonder. The theme was "Time-Honored Traditions," and decorations included an 18-foot fir tree in the Blue Room and a 350-pound gingerbread house. There was also 71 wreaths, 53 Christmas trees, over 18,000 lights, over 12,000 ornaments, over 3,100 yards of ribbon and around 1,000 feet of garland, according to the White House.
See? Not so scary, right? That one creepy picture was clearly just a weird illusion.
Also, the behind-the-scenes video of the whole process is pretty magical and lovely and nothing looks like it's going to jump out and kill you. Sidenote: the next video that plays automatically on this playlist is Donald Trump telling the story of Christmas. Proceed with caution.
Per FLOTUS tradition, Melania Trump really owned the holiday and said in a Nov. 27 statement,
The President, Barron, and I are very excited for our first Christmas in the White House As with many families across the country, holiday traditions are very important to us. I hope when visiting the People's House this year, visitors will get a sense of being home for the holidays.
Trump even took in a holiday ballet performance at the White House, though, for some reason, she was the only audience member in attendance. The whole thing seemed a wee bit awkward on video, but, if we learned anything from the Christmas tree debacle, not everything is what it seems.
With everything that's been said and done, I really do have to tip my hat to Trump and all of her decorators. On another note, none of this takes away from the fact that the White House doesn't need creepy decorations to be a legit house of horrors right now.