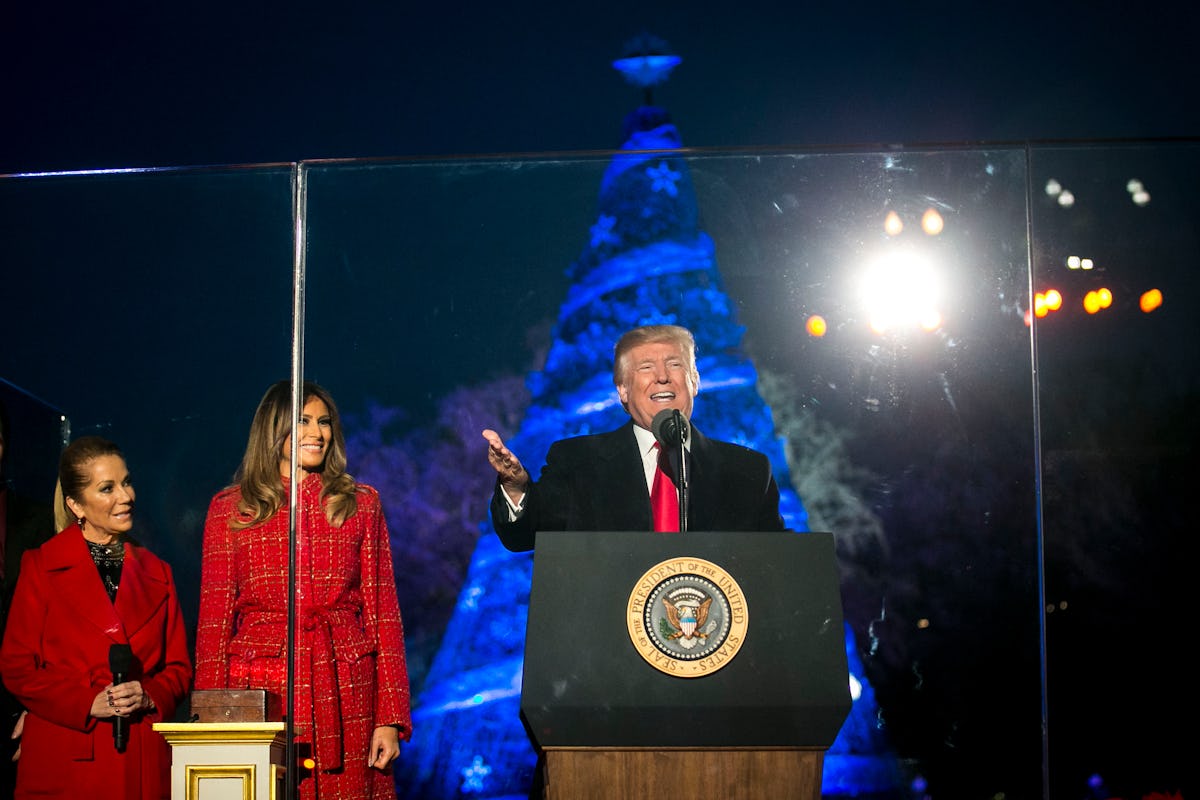 Nobody Showed Up To Trump's Christmas Tree Lighting, & The Photos Are Bleak
Pool/Getty Images News/Getty Images
Nov. 30 was, according to President Donald Trump's Twitter, a day he's "been looking very much forward to ALL YEAR LONG." What was he referring to? The White House Christmas Tree Lighting Ceremony. The big event is always packed, according to reporters, and always fun to attend. Except, not really, this year. In fact, the White House Tree Lighting Ceremony was practically empty. Ouch.
At around 5 p.m. on Thursday, Trump, accompanied by his family gathered at the Ellipse, a stretch of lawn just south of the White House for the yearly tradition of lighting the National Christmas Tree. As the sky darkened, the president counted down from 10 and First Lady Melania Trump hit the button that lit up the enormous Colorado Blue Spruce tree. Later, the president made a speech wishing "America and the world a very Merry Christmas." In a set of videos the president posted to Twitter after the ceremony, the crowd can be heard cheering as Trump wishes them a "Merry Christmas" and tells the story of Jesus Christ, as wife Melania looks on. All relatively normal, and appropriately celebratory.
His enthusiastic tweets, however, belie the truth: What is usually a packed event, which even requires entering a lottery to win a ticket, was basically empty.
Oof.
Usually, the Christmas Tree Lighting is kind of a Big Deal, according to the National Park Service (NPS), which hosts the ceremony along with the National Park Foundation. NPS says the 95-year old tradition is "one of the most beloved holiday events in Washington DC." In fact, it has become such a big event over the years that the 2016 ceremony included huge names like Chance the Rapper, James Taylor, Kelly Clarkson, and Garth Brooks.
And the 2016 ceremony looked like a big deal: The tree lighting was packed with celebrities and musical guests — and also featured then-President Barack Obama singing "Jingle Bells" with Santa Claus.
The tree was lit, and so was the ceremony.
But this year was a little different. As you can see from the pictures of this year's crowd, the chairs are more than half empty, with most of the attendees close to the stage.
People, of course, have been way harsh, Tai.
And some people, of course, riffed on Trump's famous obsession withe the size of his crowds, with jokes about what he'll be sure to say once he sees the long shots.
The joke is definitely on-point, seeing as Trump is known to be obsessed with crowd size. After his inauguration, Trump boasted that he had the largest inaugural attendance ever. Then-White House Press Secretary Sean Spicer later repeated the claim at a Jan 21 press conference, telling reporters that Trump's crowd "was the largest audience to witness an inauguration, period."
One problem, though. It wasn't. Not even close. Politifact noted that Trump's inauguration had an estimated attendance of 250,000 to 600,000 — certainly a respectable number, but also nothing in comparison to, say, Obama's 2009 inauguration (that one drew an estimated crowd of 1.8 million).
That's not the only time Trump focused on crowd size either. He gave an impromptu pep talk in Corpus Christi, Texas, this August, after Hurricane Harvey devastated parts of southeast Texas, where he said, "what a crowd. What a turnout." To maybe a few dozen people, which included protesters. He has also frequently, uh, overestimated, shall we say, crowd sizes at rallies he held over the summer.
Anyways, no one tell him that people are making fun of the poor turnout, because it's already been a rough week in terms of Trump's Twitter, OK? OK, cool.
Maybe it's not his fault that he's not good at Christmas. It seems like off-color holiday celebrations are kind of his family brand.