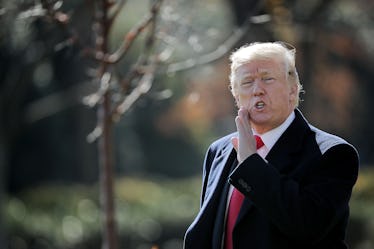 Dutch Officials Dropped The Mic On Trump's Fake Muslim Video Tweet, & It's Perfect
Chip Somodevilla/Getty Images News/Getty Images
Social media is a beautiful thing: connecting people from all over the world, reuniting long-lost friends. And, uh, sharing conspiracy theories and fake videos. Oh, wait, no, I actually meant to say that social media is hellish. But after President Donald Trump retweeted some anti-Muslim videos from a far-right Twitter account, the Dutch government responded to Trump's fake Muslim video tweet in the most beautiful way. So maybe social media isn't all bad.
After Trump retweeted three anti-Muslim videos early in the morning on Nov. 29 — including a video claiming to show a "Muslim migrant" attacking a "Dutch boy on crutches" — several offices of the Dutch government responded to the president, stating that the videos had been debunked and publicly rebuking the president for posting them in the first place.
The Public Prosecution Service of North Netherlands (their prosecutor's office), explained on Twitter that the video in question does not, in fact, depict a "Muslim migrant" attacking a Dutch boy. Rather, the suspect "was born and raised in the Netherlands," and further, the matter has since been resolved, with the boy receiving a settlement for first-time youth offenders.
The Netherlands Embassy in the U.S. took correcting Trump even further, outright scolding him like a child.
"Facts do matter," they tweeted at him. "The perpetrator of the violent act in this video was born and raised in the Netherlands. He received and completed his sentence under Dutch law."
Further, according to both fact-checking site Snopes and The Guardian, when the video first surfaced, neither Dutch media nor police suggested that the attacker was Muslim.
In fact, Geenstijl, the website that owns the site, Dumpert.nl, to which the video was first uploaded, released an article rebuking Trump and the anti-Muslim message in the original tweet. They said (in Dutch) that the video led to the incident being resolved legally, and, "Moreover, the perpetrator was not a Muslim, let alone a migrant, but simply a Dutchman ... [But] those facts in particular do not form a barrier for The Donald when he wants to ram a mini-series of muslim-critical retweets as an awakening ritual."
But Dutch officials (and websites) weren't the only ones correcting and condemning the president of the United States after he posted these videos. After all, he retweeted three of them, not just the one Dutch officials addressed. The additional videos also claim to show a Muslim man destroying a statue of the Virgin Mary, and an "Islamist mob" pushing a boy off of a roof. And all three of them came from the same source: Jayda Fransen, the deputy leader of Britain First, a far-right fringe group in the UK which has been described as an "ultranationalist, neo-fascist hate group."
Fransen, in fact, was arrested for and convicted of "religious aggravated harassment" in Nov. 2016, according to Newsweek, after she made inflammatory comments about rape and Islam during a so-called "Christian Patrol." And she was arrested only two weeks ago and charged with "using threatening or abusive language" following an appearance for an "anti-terrorist" speech she gave in August.
So a spokesperson released a statement on behalf of UK Prime Minister Theresa May, addressing the tweets, saying,
It is wrong for the president to have done this. Britain First seeks to divide communities by their use of hateful narratives that peddle lies and stoke tensions. They cause anxiety to law-abiding people. British people overwhelmingly reject the prejudiced rhetoric of the far right which is the antithesis of the values this country represents, decency, tolerance and respect.
But the president, via White House Press Secretary Sarah Huckabee Sanders, is not backing down. Sanders said on Nov. 29, "whether it's a real video, the threat is real and that is what the president is talking about, that's what the president is focused on, is dealing with those real threats and those are real no matter how you're looking at it."
Later that same evening, Trump tweeted a response to May.
"Theresa ... don't focus on me," the tweet reads. "Focus on the destructive Radical Islamic Terrorism that is taking place within the United Kingdom. We are doing just fine!"
To say that Trump has crossed a line is not an understatement. He's no stranger to making inflammatory statements about Islam and Muslims, like "I think Islam hates us" and, of course, calling for a ban on Muslims entering the United States, despite the fact that there are approximately 3 million Muslim Americans.
But you probably know you've gone too far when world leaders condemn your social media habits. And so, maybe you can't come up with a better response to a hugely powerful public figure peddling anti-Muslim propaganda than a simple, "facts matter." Maybe it's time for Trump to delete his account.