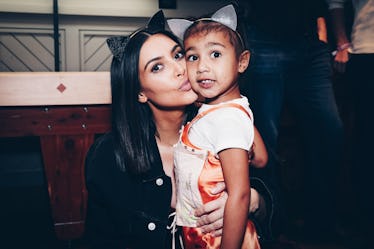 Kim K Shared The Sweetest Photo Of North Kissing Kanye On The Cheek & My Heart Has Melted
Handout/Getty Images Entertainment/Getty Images
The West family is adorable. Kim and Kanye's three kiddos are cute as a damn button, and despite the drama leading up to the release of Ye, the family seems to be happier than ever these days. All of Kardashian's posts about her family lately give off the vibe that they went through the thick of it and came out better on the other side. The drama was so bad following West's comments about slavery being a "choice" that he was afraid Kardashian was going to leave him, but they're still going strong. A new photo of North West kissing Kanye West on the cheek proves it.
The mama of three posted the sweet photo of her daughter and husband to her Twitter and Instagram on July 24 saying, "I can still feel the love." It's not clear when the photo was taken, but given the caption and little North's straight hair, I'd say this was taken around the time of North's fifth birthday party (her hair was straightened during the various celebrations her family threw for her).
Fans of the family are in love with this photo of Kanye and North. This one's going on the fridge for sure.
Do Kim and Kanye even allow their kids' art to hang on their fridge...?
Fans are thankful for the #blessed rare image of Kanye West smiling.
On July 23, Kardashian introduced the cinematic masterpiece that is The Cheetah Girls to North West. She posted a video from the Disney Channel Original Movie's opening number to her Instagram story saying, "North's new obsession! #CheetahGirls." Little does little North know that Chanel in The Cheetah Girls was played by none other than her Uncle Rob's ex-girlfriend, Adrienne Bailon.
Kardashian, of course, knew this, and she jokingly debated whether or not to tell her daughter that a real-life Cheetah Girl could've been her aunt.
Rob Kardashian and Adrienne Bailon dated from 2007 to 2009, but Bailon stayed close with the sisters even after they broke up, which is why...
She was able to hilariously respond to Kim Kardashian's Instagram story.
I haven't heard the word "cheetahlicious" since my literal pubescent years, so you can bet your ass this Instagram story brought me nothing but pure joy.
CHEETAHLICIOUS.
Was Kanye in the room when they watched The Cheetah Girls? Who was his favorite character? Was it Jackall Johnson? What was his favorite song? Was it "Cinderella" or "Cheetah Sisters?" Or is he more partial to the forever bop from The Cheetah Girls 2, "Strut?" All are more than acceptable options, I just have to know.
While her and Penelope Disick's next joint birthday party very well may be Cheetah Girls-themed, their birthday party this past June was all about unicorns.
On Father's Day, Kardashian posted an adorable photo of North and Kanye West at her birthday party.
She said in the post, "Happy Father's Day babe. Thanks for being such a good dad to our babies! Shout out to all of the amazing dads out there!"
I'm just going to throw this out there, Kim. I believe it is within your power now to get a Cheetah Girls reunion to happen. With great power, comes great responsibility. Use it well.