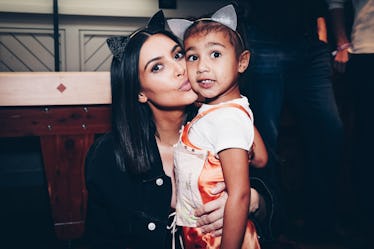 North West & Penelope Disick Had A Unicorn Birthday Party, & Why Wasn't I Invited
Handout/Getty Images Entertainment/Getty Images
Ever wake up in the morning and ask yourself, "why aren't a I celebrity child?" Well that's basically my whole life, and now I have another reason to be jealous of some celeb tots. These photos of North West and Penelope Disick's unicorn birthday party are giving me major FOMO on the life I'll never have.
Kim Kardashian and Kanye West's daughter turns five on June 15 and Kourtney Kardashian and Scott Disick's daughter turns 6 on July 8. But who says you can't start the party early? On Sunday, June 3, the Kardashian-Jenner clan threw a joint unicorn-themed birthday party for North and Penelope.
Kim K posted a bunch of photos to her Instagram stories showing off a major unicorn-themed extravaganza. There were unicorn cakes, unicorn cookies, rainbows everywhere. I'm not doing it all justice, you'll seriously just have to see for yourself.
Most importantly, what were the girls wearing? Well, Kim K snapped a photo of the girls rocking rainbow robes. North is even sporting a unicorn horn for some major #fashioninspo. I'll admit, Penelope doesn't look too thrilled in this photo, but I'm guessing it's because she's waiting on that cotton candy behind her. That checks out, right?
The Kardashian-Jenner crew really took the unicorn food trend to a whole new level. If you could put a unicorn on it, it was on that table. Tiny little cakes adorned with golden horns, ice cream cones topped with unicorns, donuts glazed with unicorn frosting. Every desert was present, accounted for, and unicorn-ified (?).
Take a look at this piñata of a birthday cake made by Flour Shop. Pro tip: Flour Shop is in New York City and they make the most adorable cakes I've ever seen, and their website is drool worthy. Anyway, take a look at this epic cake:
The birthday table alone is nicer than my whole apartment and probably my future wedding.
Also, did I mention that it was a pool party? Well it was, and obviously that means extravagant pool floats. Duh. Here's North on a rainbow one in a pool I would very much like to jump in right now.
As you might already have been able to tell, North and Penelope's birthday party was extra AF. But there was one particular photo Kim K posted of the party that really just screamed "we are doing the most." It also happens to be my favorite part of this shindig I wasn't invited to. Do you want to know what it is? OK, I'll tell you.
They put a unicorn horn on a pony (and dumped glitter on it). Yes. So first off, there was a pony at the party — which is something I thought only happened in movies or for little girls and boys who live on ranches — but apparently it's for Kardashian-Disick kids too. But the pony wasn't enough, they had to turn it into a unicorn. And there was more than one pony. Hello, that's both amazing and hilarious. If anyone has the whereabouts on that pony and would like to donate it to me, LMK.
Well there you have it. All the unicorns and rainbows a gal could ask for. The Kardashian-Jenner family definitely knows how to throw an amazing birthday bash, and I am going to try and appreciate all the cuteness without being swept away by jealousy. Now you can see why I'm pretty peeved that I'm never invited to these shindigs. Seriously, is there anyone who can get me on the list? In the meantime, I'll be here looking if any celebs wanna adopt a 27-year-old.