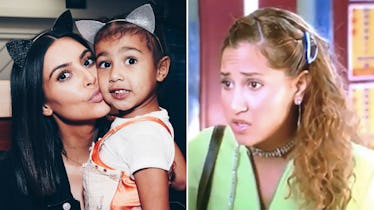 Kim K's Joke About Adrienne Bailon After Watching 'Cheetah Girls' With North Is Beyond Epic
Rich Fury/Forum Photos via Getty Images; Instagram / Kim Kardashian
Every so often, I feel like you can see a hole in the universe — like a blip in the time continuum. That's what it feels like every time I remember Kim Kardashian has a deep connection to the movie of my childhood, Cheetah Girls. If you guys recall, Cheetah Girls star Adrienne Bailon was in a super serious relationship with Kim K's little bro, Rob, for at least two years. Kim recently rewatched the film with her daughter North and joked that Bailon could have been her aunt had things gone differently. Kim Kardashian's joke about Adrienne Bailon weirdly gives me nostalgia and also makes me feel like I'm an insider in the Kardashian social circle which — let's be real — is my favorite.
On Monday, July 23, Kardashian documented her delight in discovering North was such a Cheetah Girls fan. The Disney Channel Original Movie came out a whopping 15 years ago in 2003, but the plotline still holds up. Women supporting women. Following your dreams. Dancing in awesome costumes. Ya know, the key ingredients to a classic. Kardashian posted videos of her television screen featuring Bailon and her incredible Cheetah Girls performance with some really fun captions. She wrote, "North's new obsession! #CheetahGirl," followed by, "Should I break the news to North that this could have been her auntie?!?!?!"
I mean, what a very different life those kids are growing up in, right? Kanye West is their dad, Kim Kardashian is their mom, and a Disney star from the millennial generation almost married their uncle. In fact, Bailon still stays in touch with the Kardashians after all of these years, despite breaking things off with Rob in 2009 and marrying the Christian music singer, songwriter, and producer, Israel Houghton, in 2016.
Bailon responded to Kardashian's videos from Italy where she is currently vacationing, bringing this epic story full circle. She reposted Kardashian's videos adding her own captions, "Just woke up to this! LOL. This hairstyle and this outfit," "HYSTERICAL," and ending with the always appropriate, always in style, "CHEETAHLICIOUS!"
I love it so much.
I would be totally pleased if the trip down memory lane ended here with the chunky belts and neon fleeces, but it got even better. Kardashian dug into her archives and found a "horror movie" she and the Cheetah Girls made back in the day when they were on tour. They called the film Meow, and while you definitely need a good half hour somewhere quiet to watch it by yourself, it's totally worth it. Kardashian shared the first part of the three-part movie on Twitter, writing:
So North requested we watch The Cheetah Girls movies tonight! And I found something really special... when they were on tour we made an epic horror movie called Meow and I found it on YouTube
Meow features Bailon, Kim, and Rob, and if I can be honest, it's SO worth your half-hour lunch break.
Maybe tonight I'll also treat myself to some Cheetah Girls, or maybe a little Smart House, or Brink!, or...